The Death of Jeremy Mardis and the Honesty of the Police
The officers who shot and killed a 6-year-old in Louisiana had been sued multiple times, and officials have now accused them of lying about every relevant detail of the incident.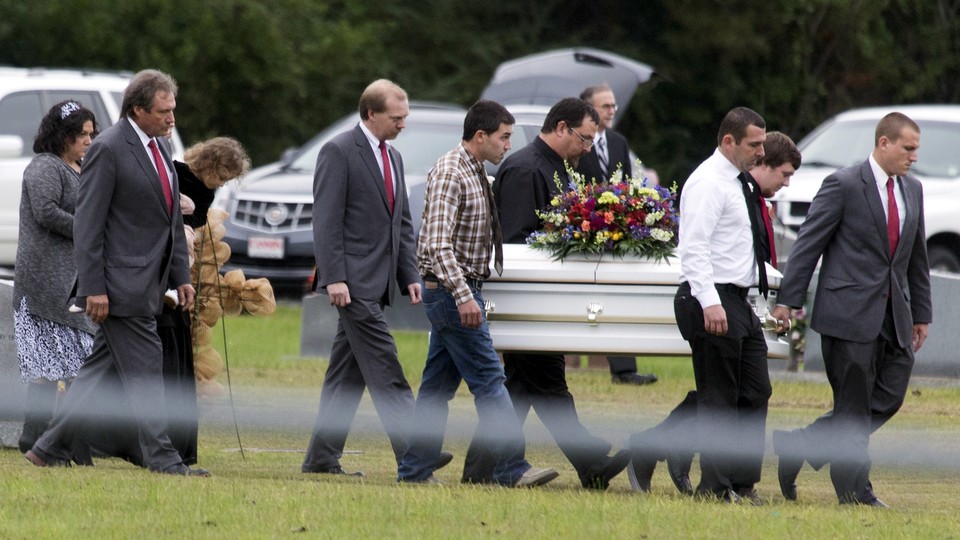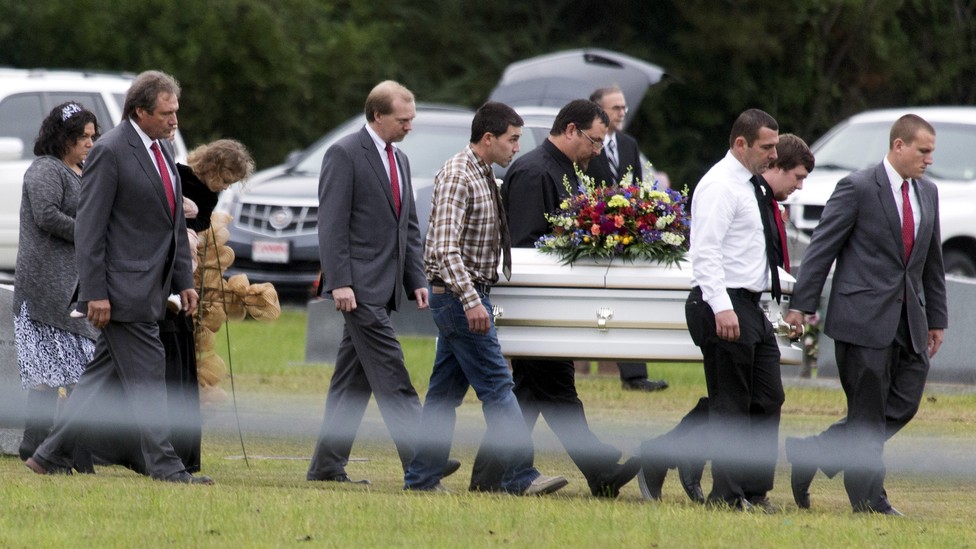 Any time police shoot and kill a 6-year-old, there are bound to be tough questions. And officers in Louisiana had answers about the death of Jeremy Mardis on November 3.
They said that Mardis's death was a tragic accident that occurred when police tried to serve a warrant on the boy's father, Chris Few. They said Few had resisted that warrant. When he'd been cornered on a dead-end road after a chase, they said, he had tried to reverse and hit the officers. Then there was an exchange of gunshots, and Jeremy—buckled into the front seat—was tragically caught in the crossfire.
Yet almost none of that turned out to be true.
There appear to have been no outstanding warrants for Few. No gun was found in his truck. Officials said while two of the officers had claimed Few reversed his SUV and tried to ram them, that wasn't actually true. When officials reviewed body-cam footage of the incident, they found Few actually had his arms in the air when the officers unloaded the barrage on the car. (Few survived the shooting that killed his son.)
"This was not a threatening situation for the police," said Mark Jeansonne, Few's attorney. Colonel Mike Edmonson, the superintendent of the Louisiana State Police, affirmed that after watching the footage.
"I'm not gonna talk about it, but I'm gonna tell you this," he said. "It is the most disturbing thing I've seen and I will leave it at that …. As a father, much less the head of the State Police, [it was] extremely disturbing."
That's part of the reason, he said, they were charging the officers involved. Derrick Stafford and Norris Greenhouse Jr., who have been charged with second-degree murder and attempted second-degree, were working as city marshals; Stafford is also a Marksville police officer, while Greenhouse is a reserve officer. Two other marshals were also involved in the chase, and one of them was wearing the body camera that captured the shooting. That footage has not been released to the public.
The district attorney's decision to charge them, and Edmonson's comments, are an encouraging sign. Police are seldom charged in fatal shootings, and when they are, they are seldom convicted. There's been a slight increase in the number of police charged this year, though experts say it's too soon to tell whether that's a result of closer scrutiny of police or simply a statistical blip.
Much of the attention given to Mardis's death has been on the role of body cameras. Because the incident was caught on film, the officers' accounts were debunked, and it's clear from Edmonson's comments that reviewing the footage had a strong effect on his own decision. There's much that's still unknown about how body cameras will effect policing and justice, and while this case is a single incident, the fact real footage can take the place of unreliable witness testimony is positive.
That's an appropriate and important way to think about the story, but it's not the only one. Another is about the honesty and trustworthiness of the police. Since the nation grants the police a near-monopoly on the use of deadly force, it's important that officers be honest, reliable, and trustworthy. In the Mardis case, all signs so far suggest officers did not meet that standard.
Consider all the discrepancies in the case: the apparently nonexistent warrant, the story of Few resisting and trying to ram the marshals, the supposed threat to the officers, the suggestion that Few had fired a gun. The officers involved are alleged to have lied about the incident, and Edmonson also expressed concern about two of the officers' refusal to speak to police. "It's more concerning the longer it takes to talk to us," he said. "All we want to know is what happened." When The Guardian asked why they hadn't been interviewed, Edmonson replied: "You'd have to ask them. We are trying to talk with them." (It appears the shooting occurred amid a turf war between the city marshal and the police department, complicating matters.)
Both Stafford and Greenhouse had been subject to multiple prior complaints—what the Associated Press characterized as "a string of civil lawsuits." Stafford was sued for two incidents in 2012, one in which he allegedly shocked a woman with a stun gun while she was handcuffed and another in which he was accused of breaking a girl's arm while breaking up a fight on a school bus. In 2014, a jury awarded $50,000 to a man who said Stafford had arrested him as payback for filing a complaint against him. Stafford was indicted twice for rape in 2011. In one of those cases, he was charged with raping a 15-year-old in 2004. Both charges were dismissed, but it's not clear why.
Stafford and Greenhouse were also defendants together in two separate cases. In one, a man said they used excessive force while arresting him in 2014. In the second, they were accused of refusing to take action while a third officer assaulted a teenager.
Meanwhile, reports have noted there appears to have been a conflict between Few and Greenhouse before the incident. Greenhouse was a former classmate of Few's girlfriend, Megan Dixon. Dixon said Greenhouse had been sending her messages, and Few threatened Greenhouse. "I told Chris, and Chris confronted him about it and told him, 'Next time you come to my house I'm going to hurt you,'" Dixon said.
A judge has now placed a gag order on nearly everyone involved in the case, so further information may be sparing. But the information so far paints a bleak picture. The officers in Jeremy Mardis's shooting were subject to multiple complaints about their fitness for duty. One was allegedly in a personal conflict with Chris Few. And police officials have now said that they were lying about almost every relevant point of the pursuit and shooting.
"Nothing is more important than this badge that we wear on our uniform, the integrity of why we wear it," Edmonson said when Stafford and Greenhouse were arrested. "It's not a right, it's a privilege. And tonight that badge has been tarnished." It's hard to disagree.