The 3 Arrests in Minneapolis' Black Lives Matter Shooting
Authorities haven't decided to charge the suspects with hate crimes after they allegedly opened fire at a police-brutality protest.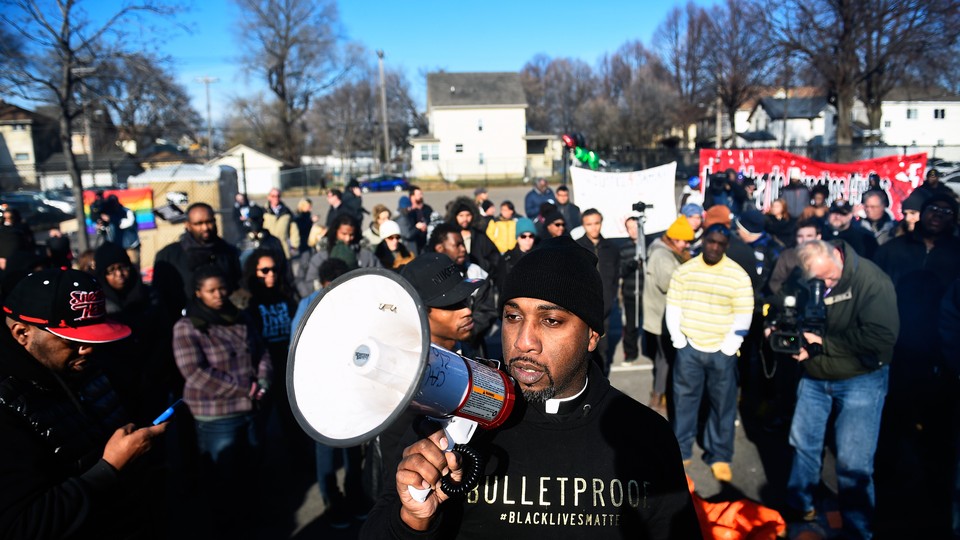 Minneapolis police have arrested three suspects in connection with the shooting of five Black Lives Matter demonstrators on Monday. The first, Allen Lawrence "Lance" Scarsella III, was caught by police. Two others, Nathan Gustavsson and Daniel Macey turned themselves in. A fourth reported suspect, a Hispanic man, was arrested but later released.
The Star Tribune reports that authorities are still debating whether to charge the men with a hate crime. The shootings took place near an encampment at the city's Fourth Precinct police station, near where police fatally shot Jamar Clark, a 24-year-old black man, last week. Activists have been camped out demanding the release of video footage of the incident. According to activists, the men were white supremacists had been coming to the protests and trying to intimidate those who were gathered. On Monday, they arrived wearing masks and refused to remove them. When demonstrators tried to push them away, a scuffle and then the gunshots occurred.
The Star Tribune reported on what it believes to be connections between the suspects and online postings. One YouTube video shows masked men who say they're headed to the protest site:
"We are locked and loaded," he says, holding up a black 1911-style pistol. As he flashes the gun, he explains amid racial slurs that the men are headed to the Black Lives Matter protest outside Minneapolis' Fourth Precinct police headquarters. Their mission, he says, is "a little reverse cultural enriching."

"We're gonna see if we can have ourselves a little look-see," adds his passenger, who identifies himself as "Black Powder Ranger."

SaigaMarine tells viewers to stay tuned. "Stay white," he says as he signs off.
In the aftermath of the shooting, Clark's brother Eddie Sutton called for an end to the encampment for protestors' safety. But other activists vowed not to be intimidated, and around 1,000 people marched in downtown Minneapolis Tuesday.