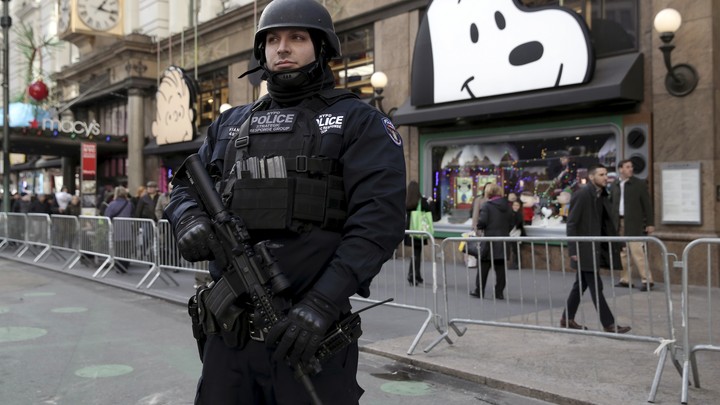 The State Department issued a rare worldwide alert on Monday for Americans traveling abroad in the wake of the Paris attacks and ongoing anti-terrorism operations in Europe:
Current information suggests that ISIL (aka Da'esh), al-Qa'ida, Boko Haram, and other terrorist groups continue to plan terrorist attacks in multiple regions. These attacks may employ a wide variety of tactics, using conventional and non-conventional weapons and targeting both official and private interests.
The alert is the third such caution in as many years. The State Department previously sent out a global alert in 2013, while warning of potential al-Qaeda plots. It also issued an alert late last year, following Islamic State attacks in Sydney, Australia.
Notably, the last two alerts have three-month windows attached to them while the 2013 alert expired after a month.
Despite the severity of the tone, the State Department did not advise against outright travel, only urging Americans to follow ongoing events and "exercise vigilance when in public places or using transportation." Department of Homeland Security Secretary Jeh Johnson acknowledged the "anxiety across our country" following the Paris attacks, and reminded travelers that such alerts don't mean a terrorist act is imminent.
"As we approach the holiday season, it is important to note that, at present, we know of no credible and specific intelligence indicating a Paris-like plot on the U.S. homeland," he said in a statement Monday.
Neil deGrasse Tyson had some thoughts about it:
Odd that dangerous travel alerts increase when military actions are in progress that are intended to make us all feel safer.

— Neil deGrasse Tyson (@neiltyson) November 24, 2015
On Tuesday, President Obama held a joint press conference with French President Francois Hollande where he addressed security concerns as they relate to the recent attacks in Paris.
"I want to speak directly to the American people," he said. "What happened in Paris is truly horrific. I understand that people worry that something similar could happen here. I want you to know that we will continue to do everything in our power to defend our nation."
The president also offered praise for government officials saying, "They have prevented attacks, and they have saved lives. They are working every hour, every day for our security."
We want to hear what you think about this article. Submit a letter to the editor or write to letters@theatlantic.com.
Adam Chandler
is a former staff writer at
The Atlantic
. He is the author of
Drive-Thru Dreams: A Journey Through the Heart of America's Fast-Food Kingdom
.