The Secret Service Officer Who Allegedly Sexted a Teen
An employee of the protection agency has been arrested for sending naked pictures to a minor.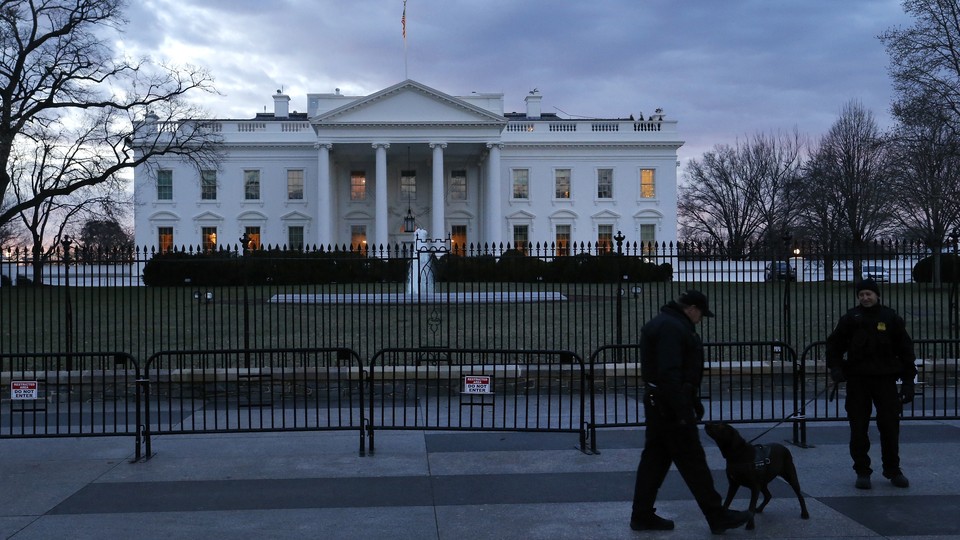 A Secret Service officer assigned to the White House was recently arrested for sending naked pictures of himself to someone he thought was a 14-year-old girl, CNN
reported
Thursday—another big hit to the agency's
beleaguered public image
.
The officer, Lee Robert Moore, 37, allegedly sent the photos through a mobile messaging service to a Delaware State Police officer posing as an underaged girl in Delaware and requested to meet in person to have sex, according to CNN.
Moore turned himself in to the Maryland State Police Barracks on Monday after a complaint was filed against him in the U.S. District Court of Delaware. He told police that he had sent some messages while on the job at the White House.
The Daily Beast
reported
on some of the contents of the lewd text messages, which allegedly occurred over two months. One message read, "work sucks today."
A Secret Service spokeswoman told CNN the incident was reported to the agency on Friday. On that day, the agency suspended Moore's security clearance and placed him on administrative leave.
The charge against Moore carries a sentence of up to 10 years.
The Secret Service, the elite agency tasked with protecting the first family of the United States and dozens of other political figures, is in the midst of a
four-year-long streak
of bad press over its security blunders and seemingly lax company culture.
In 2011, agents botched an investigation of bullets fired at the White House by an unknown gunman, chalking up the incident to a nearby gang fight. A year later, a dozen agents were been sent home from a presidential trip to Colombia for misconduct, which included hiring prostitutes. In 2014, an man armed with a knife scaled the White House fence and made it inside the executive mansion—whose front doors were unlocked—before agents tackled him. Julia Pierson, the director of the Secret Service at the time, resigned over the incident. And earlier this year, two senior agents, one of whom was second-in-command of President Obama's detail, drove a car into a White House security barrier after drinking at a party for the agency's departing spokesman.