On Supporting the Troops, With Camo-Themed Headwear
Editor's Note:
This article previously appeared in a different format as part of The Atlantic's Notes section, retired in 2021.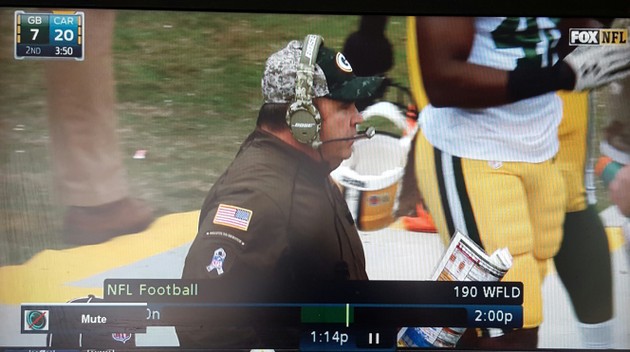 In the context of this past week's "Paid Patriotism" report by Senators John McCain and Jeff Flake, about the way the Pentagon has been paying pro sports teams for patriotic on-field displays, a reader sends a screenshot from one of today's games:
Sorry for the interruption, but I had to send this from the game on now. All of the coaches are dressed in camouflage!

Yes it's Veterans Day Wednesday, but during the years when I lived in England, where people really know about the horrors of war, no one would even think of dressing up like that. If you wanted to honor vets you wore a red poppy.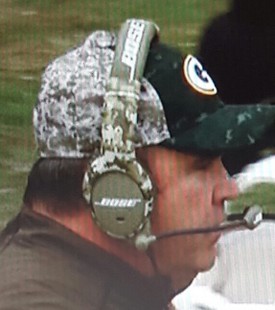 And of course red poppies on the lapel are very widespread Remembrance Day tributes in the U.K., Canada, Australia, etc. It's worth noting that the camo theme in today's U.S. football games applies not simply to the caps but even to the Bose headsets, as you see here.
The significant point, I think, is that the American public has seen things like this so often that we barely notice any more. The re-themed Bose headsets are another detail that Ben Fountain might have worked into Billy Lynn's Long Halftime Walk, though perhaps he was worried about making the satire a little too broad.
***
Update Thanks to a reader for pointing out that in a special salute to the troops, the NFL's online shop is offering a full 15% off list price to veterans and service members.