Obama's Thanksgiving Message to Americans
The president attempted to reassure the populace in the wake of the Paris attacks.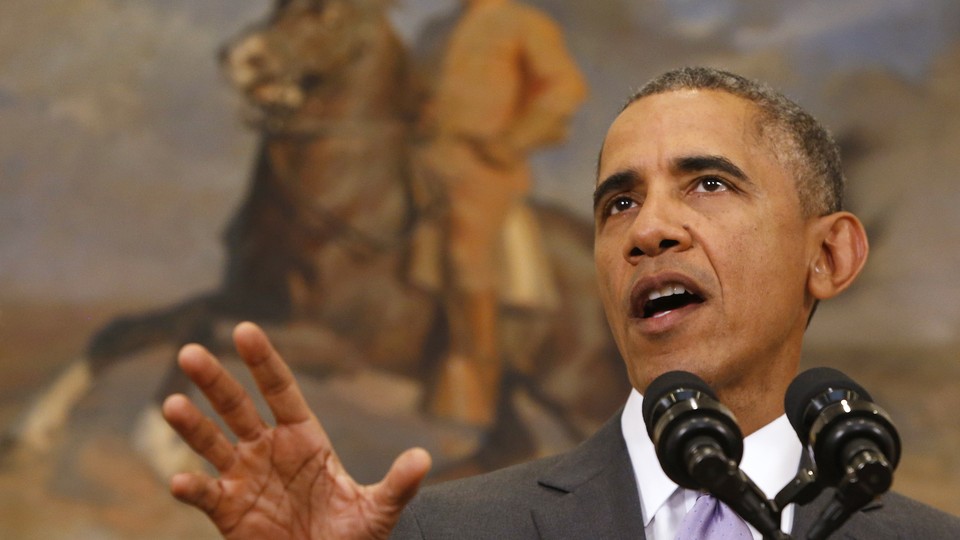 Go about your Thanksgiving business, everyone.
That was the gist of President Obama's surprise announcement to the American people on Wednesday, which came after a meeting about U.S. security in the wake of the Paris attacks.
"Americans are asking each other whether it is safe here, whether it is safe to fly or gather," Obama said in a brief statement from the White House's Roosevelt Room. "And I know that families have discussed their fears about the threat of terrorism around the dinner table, and many for the first time since September 11th, and it is understandable that people worry if something similar could happen here."
The president said the latest intelligence suggests there is no "specific, credible" threat against the United States. If there is one, he said, "we will let you know."
"As we are going into Thanksgiving weekend, I want the American people to know that we are taking every possible step to keep our homeland safe," he said.
The speech was added to the presidential itinerary just over an hour before the president stepped up to the lectern, flanked by Homeland Security Secretary Jeh Johnson, FBI Director James Comey, and Attorney General Loretta Lynch.
After the Paris attacks, which claimed 130 lives, major U.S. cities like New York, Washington, and Los Angeles beefed up their security measures as a precaution. The State Department issued a worldwide alert on Monday for Americans traveling abroad, the third such caution in as many years. The alert did not advise against outright travel, only urging Americans to follow ongoing events and "exercise vigilance when in public places or using transportation." The department said that "current information" suggests that the Islamic State, al-Qaeda, Boko Haram, and other terrorist groups "continue to plan terrorist attacks in multiple regions."
The president is taking his own advice. Later Wednesday, he will preside over the White House's annual presidential turkey pardon, sparing two birds named Honest and Abe from becoming Thanksgiving centerpieces.