Mizzou's Football Team Tries to Sack the University's President
Thirty-two student athletes join the effort to force the school's leader to step down over allegations of systemic racism on campus.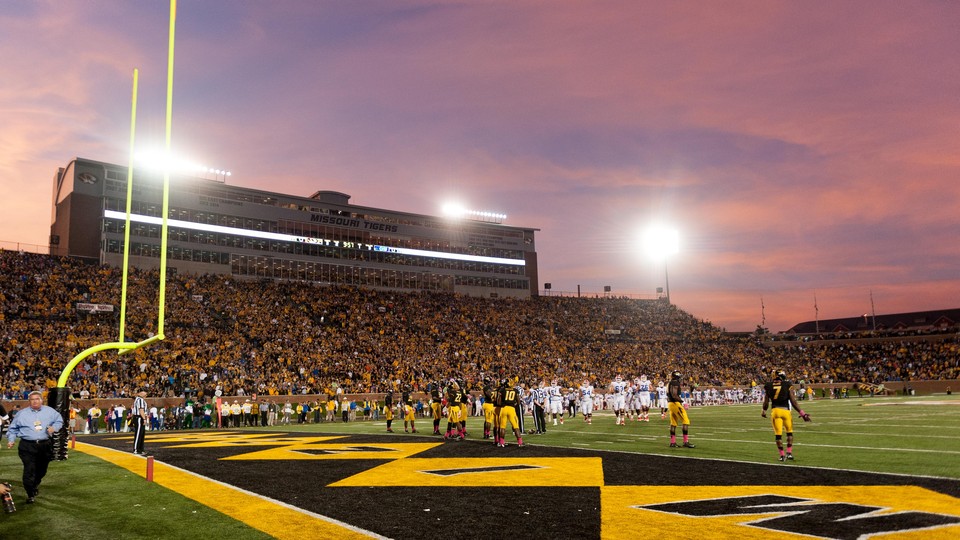 On Friday night in Kansas City, a group of University of Missouri students approached the school's president, Tim Wolfe, outside of a fundraiser at a performing arts center he had attended. They asked him to give his definition of systematic oppression.
"I will give you an answer, and I'm sure it will be a wrong answer," Wolfe said. Then, "Systematic oppression is because you don't believe that you have the equal opportunity for success."
The students reacted in shock. "Did you just blame us for systematic oppression, Tim Wolfe?" one shouted. "Did you just blame black students?"
The encounter was filmed and posted on Twitter by a student, and was widely circulated. The students were members of Concerned Student 1950, which has been staging protests on the university's campus in Columbia this week against what they say is the school administration's poor handling of several racist incidents that occurred this fall. The group, named for the year the University of Missouri accepted its first black students, has called for Wolfe to resign.
In a statement released on Sunday afternoon, an apparently defiant Wolfe said he is committed to "listening to all sides," and that he is "dedicated to ongoing dialogue to address these very complex, societal issues as they affect our campus community." He mentioned ongoing work on a "systemwide diversity and inclusion strategy," due to be completed in April. But he said nothing about stepping down or otherwise meeting students' demands.
Students have held rallies on campus, boycotted buying school merchandise, and stopped attending football games. Jonathan Butler, a graduate student, is on the seventh day of a hunger strike in protest of the school administration. Butler is refusing food "until either Tim Wolfe is removed from office or my internal organs fail and my life is lost," he wrote in a Facebook post on Monday.
The latest development in the protests came Saturday night, when 32 members of the Missouri Tigers, the school's football team, announced that they would go on strike until Wolfe resigned.
​The athletic department acknowledged the strike on Twitter Saturday, saying "we must come together with leaders from across our campus to tackle these challenging issues and we support our athletes right to do so." One player tweeted that "our coaches are 100% behind us. Including the white ones."
The Tigers are scheduled to face the Tigers of Brigham Young University on Saturday.
The recent conversation about racial tensions at the University of Missouri began in earnest in September, when a Facebook post by Payton Head spread quickly on social media. Head, a senior and the president of Missouri Students Association, said people riding in a pickup truck had shouted racial slurs at him as he walked near campus. "I really just want to know why my simple existence is such a threat to society," he wrote.
On October 5, members of the Legion of Black Collegians were verbally harassed during an on-campus, late-night rehearsal for homecoming festivities by a visibly intoxicated white male student, who referred to the students with the N-word. Chancellor R. Bowen Loftin apologized for the incident, and a few days later the university announced it would require all students, faculty, and staff to take diversity training—the "strategy" that Wolfe referenced in his statement Sunday.
On October 10, Concerned Student 1950 protesters blocked Wolfe's car as it moved through a homecoming parade until they were removed by police. The group sent a list of demands to the university on October 20, including an apology for the incident from Wolfe and Wolfe's resignation. The president met with members of the group a week later, and on November 6 publicly apologized for the parade incident. "Racism does exist at our university and it is unacceptable," he said.
In the fall of 2014, the University of Missouri had a student population of 35,441, according to its website. Of those, 77 percent were white and 7 percent were black, in a state where 12 percent of the population is African American. Last year, hundreds of students participated in an on-campus demonstration in protest of high-profile cases of fatal police shootings of black men, including Michael Brown, who was killed in Ferguson, which is about 115 miles east of Columbia.