The 5 Black Lives Matter Protestors Shot in Minneapolis
Police have arrested two suspects and are searching for a third, and say that none of the injuries are life-threatening.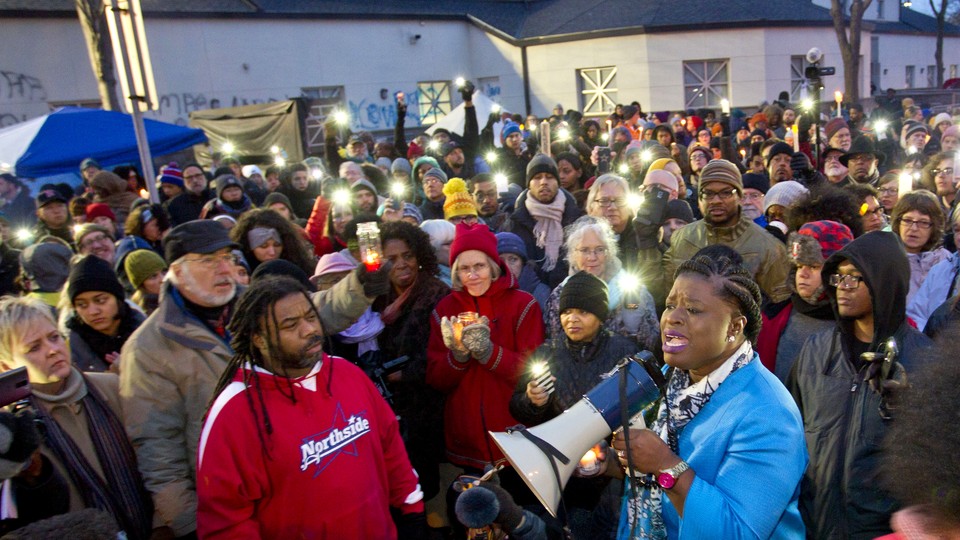 Updated on November 24 at 2:31 p.m.
Minneapolis police have arrested two suspects in the shooting of five people at a Black Lives Matter protest Monday night.
Since Jamar Clark was shot by police on November 15, protestors have been camped out outside the city's Fourth Precinct police station, not far from where the shooting occurred. Around 10:45 Monday night, five of them were shot. None of their injuries was life-threatening.
Police arrested a 23-year-old white man and a 32-year-old Hispanic man, and are searching for a third white, male suspect. All three suspects fled the scene.
Protestors say the men were counterdemonstrators. "A group of white supremacists showed up at the protest, as they have done most nights," Miski Noor told the Star Tribune. The paper said that BLM demonstrators were trying to herd the counterdemonstrators away when the men opened fire.
KSTP, a local television station, reports that police said the men were wearing bulletproof vests.
Clark, 24, was shot in the head by police on November 15 and died the following day. The circumstances of his death are murky. Police said he was a suspect in a domestic violence call and was interfering with responders. Several witnesses said Clark was handcuffed and lying on the ground when he was shot, a claim police deny. The activists outside the precinct station have demanded the release of video of the incident. It's unclear what the video might show. The state's Bureau of Criminal Apprehension has taken over the case and gathered footage from several sources, but said it wouldn't release the videos until it had completed an investigation. The BCA also said that no single video shows the entire event.
Tuesday is also the one-year anniversary of rioting in Ferguson, Missouri, after a grand jury decided not to charge Officer Darren Wilson in the death of Michael Brown, a touchstone moment in national protests against police violence. Black Lives Matter Minneapolis posted a statement on Facebook saying, "We will not be intimidated," and calling for people to join in a March Tuesday afternoon.
Police have reported a series of incidents since Clark's shooting, including gunshots and Molotov cocktails being thrown at police cars. Clark's death has brought renewed focus to a long history of tension between the Minneapolis police and the community—in particular the African American community—and to questions about discipline and violence on the force.