Keep the Candy for the Kids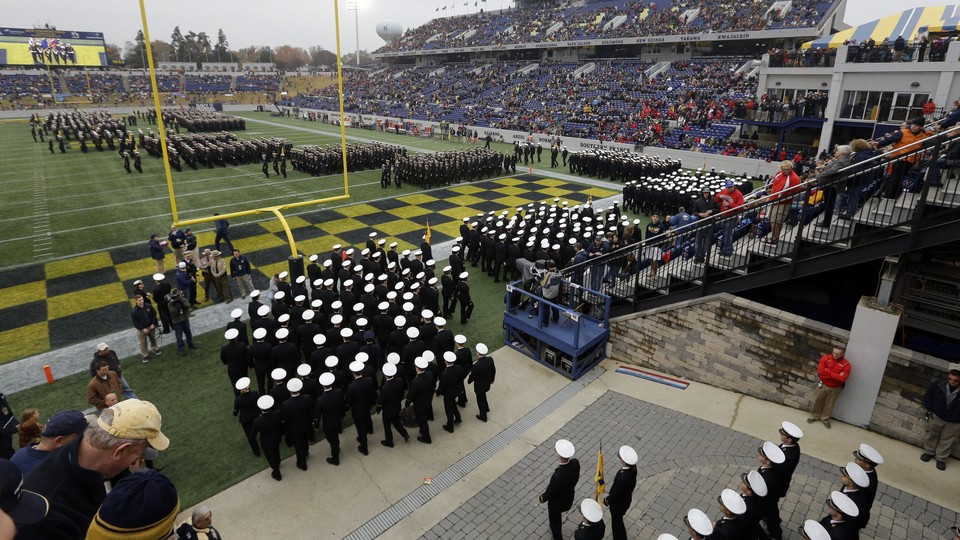 Editor's Note:
This article previously appeared in a different format as part of The Atlantic's Notes section, retired in 2021.

Here's a strange story out of Annapolis that seems to fit within Fallows's new thread on Chickenhawk Nation, or the tendency of the American public to express easy gestures of gratitude to the military without at the very least informing themselves about why servicemembers are deployed all over the world, let alone sacrificing anything themselves. (As the son of two retired Army officers, including a Vietnam vet, I'm a bit biased on this.) So here's the story: Local fans of the Naval Academy's football team have renewed a seemingly sweet but condescending habit of tossing candy to the brigade of about 4,400 midshipmen that traditionally marches into the stadium at every home game. Things have even gotten ugly:
"[Y]ou get these little cretins who throw [the candy] 150 mph," then-city police Sgt. Paul Gibbs told The Capital [in October 1998]. Well, the enthusiasts may have returned this season, because complaints resurfaced about the practice — don't call it a tradition — of throwing Snickers, Starbursts, Tootsie Rolls, even hamburgers at the brigade.

Hamburgers.

"I saw hamburgers lying in the street," said Bill O'Leary, who has lived across from the stadium since the 1990s. For years, he has called for an end to the throwing. "They throw plastic water bottles at them, too."
Beer cans were added to the onslaught during a game against Wake Forest in 2009. Since the late '90s, Naval Academy officials have repeatedly urged the public to stop this habit—"It shows a lack of respect for the uniform of our armed services," according to one statement—but it keeps popping up. Here's one lame defense from a local fan via Facebook:
"As a kid, I grew up watching the Brigade of Midshipmen marching from the academy to the games at the stadium. My first memories were that we would toss candy to them so they could have some treats during the game. It wasn't 'throwing candy at them' to be disrespectful. Then sometimes they would have candy to thank us and toss it back,"
Read the whole story for some added nuance, but at best, the candy tossing is a small symptom of what Jim has been writing about all year.