Jimmy Carter's Cancer Treatment
The former president's illness is responding to radiation therapy.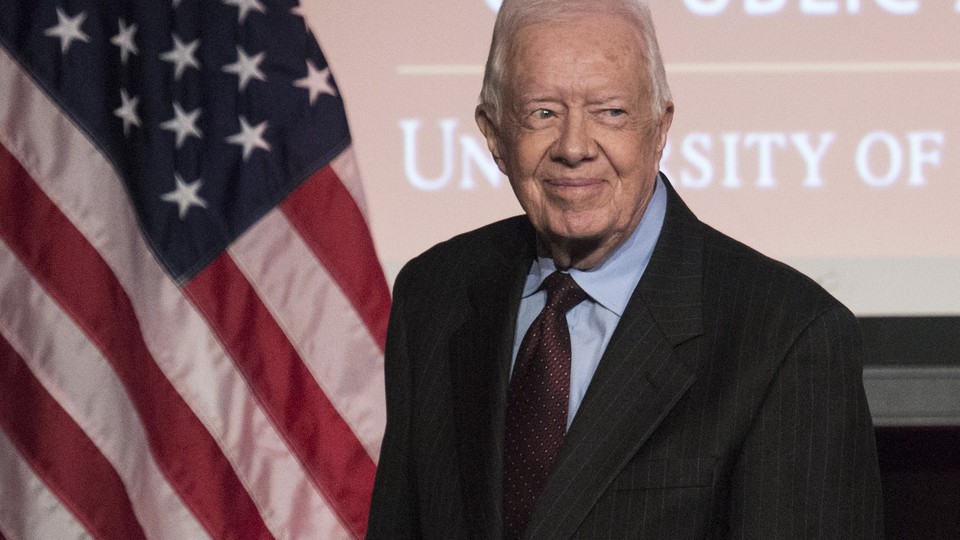 Three months after he announced his cancer diagnosis, Jimmy Carter is doing well.
Doctors "tell him that recent tests have shown there is no evidence of new malignancy, and his original problem is responding well to treatment," according to a statement published on the Carter Center's website Tuesday.
The former president, who turned 91 last month, revealed in August that doctors had diagnosed as cancer a small mass discovered during surgery on his liver. A scan had found four "very small spots" on his brain, which were determined to be melanoma. In the last few months, Carter has undergone radiation treatment.
"I'm perfectly at ease with whatever comes," a smiling Carter told reporters in August. "You know, I have had a wonderful life. I have had an exciting and adventurous and gratifying existence."
Back then, Carter said he thought he "had just a few weeks left" when he learned about the melanoma in his brain. But he remained in good spirits. "I didn't go into an attitude of much despair or anger or anything like that," he said. "I was just completely at ease."
Carter has put his work for his eponymous nonprofit organization on hold. Doctors had cleared him for travel to Nepal this month with Habitat for Humanity International to help build homes, a trip he has made 33 times. But the trip was canceled in October by Habitat, citing safety concerns.
The Carter Center said Tuesday that Carter will undergo "further tests."