Body Cameras and the Death of a 6-Year-Old Boy
Police say footage of an officer-involved shooting contributed to prosecutors' decision to press charges.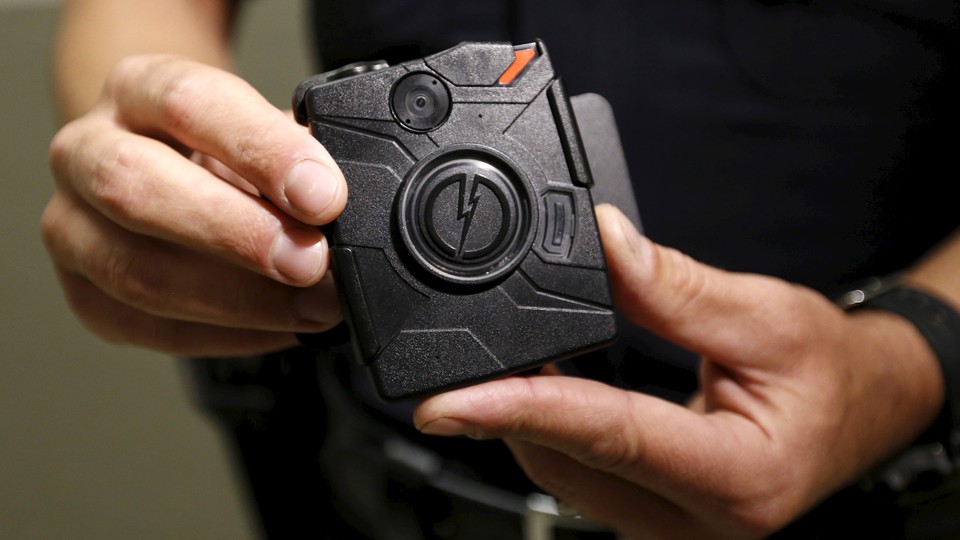 All of it was filmed. The police chase of an SUV after dark on a weeknight. The shots fired. The driver, struck in the head. His son, 6 years old, shot dead in the front seat.
The fatal shooting of Jeremy Mardis in Marksville, Louisiana, on Tuesday was captured on a body camera worn by one of the four police officers present at the scene. And it was that video footage that led in part to the decision to charge two of them with second-degree murder on Friday night.
The footage, Colonel Mike Edmonson of the Louisiana State Police told reporters, was "extremely disturbing, and it is partly why we're here tonight with these charges."
"I'm not gonna talk about it, but I'm gonna tell you this," Edmonson said. "It is the most disturbing thing I've seen and I will leave it at that."
Louisiana State Police arrested the officers, Norris Greenhouse Jr. and Derrick Stafford, on charges of second-degree murder and attempted second-degree murder. Mardis's father, Chris Few, remains hospitalized. The New York Times reported Mardis, a special-needs student who had recently transferred to his new school in Louisiana from Mississippi, was shot several times in the head and chest. A forensic report on how many guns and bullets were fired will be released next week, with autopsy results to follow in eight weeks.
"That little boy was buckled in the front seat of that vehicle, and that is how he died," Edmonson said.
Officials have not said what led to the police pursuit of the car. Initial reports suggested that Few fled after officers tried to arrest him on an outstanding warrant. Edmonson refuted that claim Friday, according to The Washington Post.
Police departments across the United States are increasingly testing and using body-worn cameras—small, usually pager-sized devices that are clipped onto an officer's uniform. The technology quickly emerged as a potential new method of accountability in fatal encounters between law enforcement and community members, especially black men, following the shooting death of 18-year-old Michael Brown in Ferguson in August 2014. Supporters of body cameras say their mere presence can force both officers and civilians to change their behavior. The devices, they say, benefit both sides in policing: They help protect the public from police misconduct, and they help protect police from false accusations.
Research backs this up. A yearlong experiment in Rialto, California, in 2013, found that police officers who weren't wearing cameras were twice as likely to use force as those who were. It also found that citizen complaints against police dropped 80 percent. In late 2014, President Obama announced that the government would spend $75 million over three years to distribute 50,000 body cameras to police departments across the country, saying that "evidence shows that body-worn cameras help strengthen accountability and transparency."
Take the case of Samuel DuBose, a 43-year-old Cincinnati man who was shot dead in July by officer Ray Tensing, who stopped DuBose because his car was missing its front license plate. DuBose was black. Tensing is white. The Ohio prosecutor handling the case said he probably would have believed Tensing's version of the story if the encounter wasn't captured by a body camera—but it was. "He purposely killed him," the prosecutor said, in announcing Tensing would be charged with murder and voluntary manslaughter. "He should never have been a police officer."
The video footage of DuBose's death was released to the media and the public. But it's unclear whether the footage of the shooting of Jeremy Mardis will be. While there's a growing consensus that body cameras are necessary and important, there is little agreement over whether and when officers, the public, or the press should see the footage they capture. My colleague Robinson Meyer broke down the debate in August:
If a police officer has a hostile encounter with a teenager on the street, but neither of them are badly injured, does the teenager have a right to see video of the incident recorded from the officer's body camera? If an officer is invited inside the home of a domestic-violence victim, will that victim be able to tell the cop not to record?

And, most importantly, if someone is killed in an altercation with an officer, could that officer watch the video before testifying to a grand jury? Because if so, critics say, that cop would be able to alter his or her account of the event to match what was on video—even if their initial account was wildly different.

Hanging over all these hypotheticals is a question about what body-camera footage is: Is it a public record created by the government and available to the people, or is it personally identifiable information that's confidential and off-limits?
In the case of a young boy who just started first grade, body-camera footage gave prosecutors enough to take two officers to court.
---
Related Video