Ajo Update: Emily and Stuart Get Married
Editor's Note:
This article previously appeared in a different format as part of The Atlantic's Notes section, retired in 2021.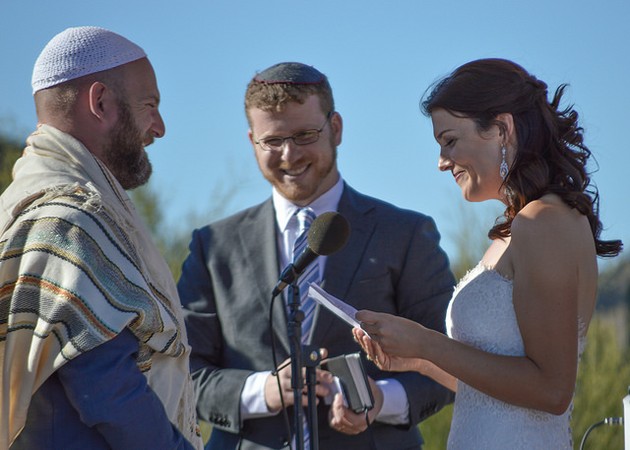 Early this year my wife Deb and I filed several reports from the genuinely startling and inspiring small town of Ajo, Arizona. Ajo is far away from pretty much everything except the spectacular Organ Pipe Cactus National Monument. Also nearby, for warplane fans, is the Barry Goldwater bombing range just to the north, as described here.  Just to the east is the large tribal land of the Tohono O'odham Nation, and there is a big Border Patrol station to the south of town.
A century ago, Ajo was the site of an enormous open-pit copper mine. Thirty years ago, the mine closed suddenly, leaving a gigantic (but interesting!) lunar-surface-scale crater as a landmark but removing most of the town's economic reason for being.
Over the past ten years, indefatigable teams of activists, artists, entrepreneurs, dreamers, and volunteers and others have set about rebuilding and reviving the town. Deb told part of their story here and here, and I compared it with some other small-town, arts-based revival efforts in the United States and China here. Seriously, if you didn't read this earlier report by Deb, please check it out.
The centerpiece of current efforts in Ajo is the new Sonoran Desert Conference Center, a combination resort / retreat / meeting place / educational center being built in a beautiful, architecturally striking former school, shown below.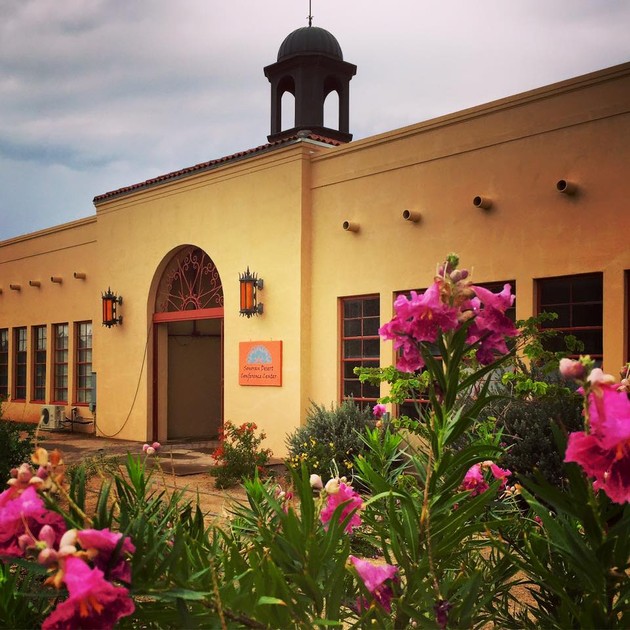 ***
Around the same time Deb and I arrived in Ajo to see the center and the town, a young couple from the northeast, Emily Raine and Stuart Siegel, were also getting their first look at the area. Initially this was for them just one more "hmm, it could be interesting" stop on a see-America wanderjahr they were calling their Big-Ass American Adventure.  You can see Stuart's Tumblr chronicle of their travels, and Emily's essay on 10 Things to Love About Ajo after they had been there for a while. Here is a picture taken when they drove us to the airport in Gila Bend.
Although this had seemed merely an interesting possibility when we first met them, Emily and Stuart ended up signing on as at-least-for-now residents of Ajo and directors of the new conference center. And earlier this month, they were married right there. You can see one photo above, and many more at a flickr collection by their friend Margaret Collins. More than 100 friends and family made the trek from the rest of the country, and Emily and Stuart marshaled extensive support from local friends in Ajo, including the high school band. As Emily wrote after the ceremony,
The phenomenal food by the local postal worker and police dispatcher who moonlight as caterers...that gorgeous bouquet and boutonniere by the local flower shop/funeral home...the retirees that drove us to and from the ceremony in their classic cars...the saguaro cactus chuppah that the deputy sheriff who does woodworking helped us make...the dozen or so Ajoites who led activities for guests on Saturday morning (yoga! gardening! beer tasting! meditation! historic walking tour! hiking!)...the AJO HIGH SCHOOL BAND playing at the ceremony...it was a pretty amazing small-town desert wedding!
(In case you're wondering: No, Ajo has not been a traditional center of Jewish weddings or Jewish life in southern Arizona. During its mining heyday, the working population was a mixture of Anglo, Latino, and Tohono O'odham and other tribal families, and the main religions were Catholic, various Protestant denominations, Mormon, etc. This ceremony was one more aspect of Ajo's renaissance.)
Here is how Stuart and Emily looked earlier this year, as the conference center was still undergoing renovations and they were still making wedding plans: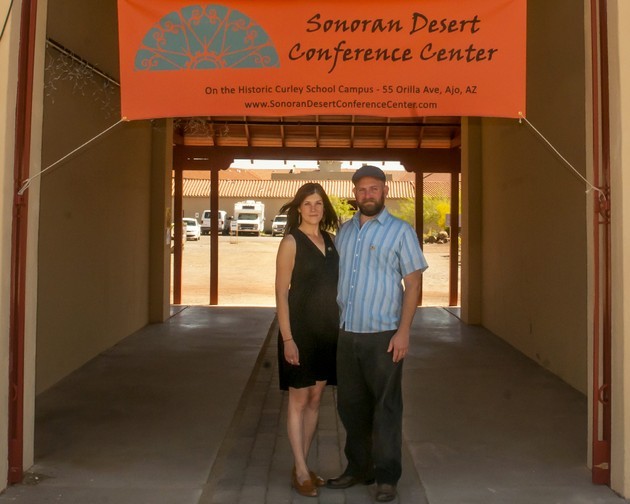 We were delighted to hear of the wedding and sorry not to be there ourselves. We send the bride and groom — and their community — our heartiest congratulations. We'll look forward to congratulating them in person. If you're looking for a place to stay in the southwest, consider the Sonoran Desert Conference Center — and say hello to the directors for us. People like them, deciding to give their best to a new place, often against the odds, have made us feel better, when there is a lot to feel bad about.
***
Bride and groom, amid local flora: