A Resignation That Was a Long Time Coming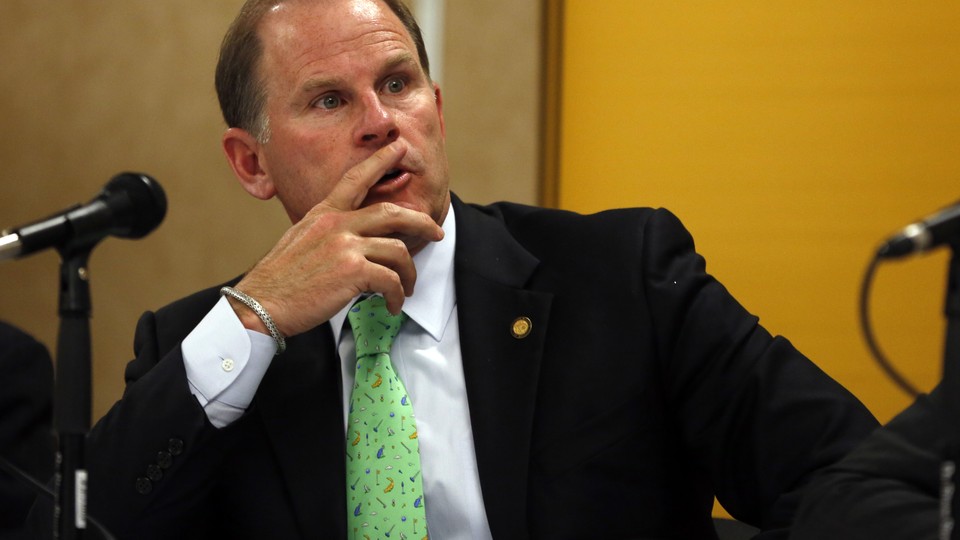 Editor's Note:
This article previously appeared in a different format as part of The Atlantic's Notes section, retired in 2021.
Before the controversy that resulted in Tim Wolfe's resignation as the president of the University of Missouri, there was the controversy in 2011 over his hiring.
Like his predecessor, Gary Forsee, the former Sprint CEO, Wolfe came from the world of business rather than academia. He had spent years at IBM and Novell— years the university system hoped would help in fundraising and cost-cutting.
But as the St. Louis Post-Dispatch said in an editorial at the time:
How do you explain the selection of a former software executive with no significant academic credentials as the leader of a four-campus university system? Answer: You take a sow's ear and turn it into a silk purse.
The tenure was controversial from the start. Wolfe ended the $400,000 subsidy for the University of Missouri Press in May 2012, said the press would close completely in July, and in October—after massive backlash—said it would stay open, after all.
Under his watch, the university ended a decades-old program to train students at Planned Parenthood, and stopped granting hospital privileges to the sole doctor performing abortions at the organization's clinic in Columbia, MU's main campus. The university also ended subsidies that allowed its graduate students to pay for health insurance.
I should add here that I'm a graduate of the University of Missouri's School of Journalism and my time there, 1998-2000, predated Wolfe's presidency. But my conversations with former classmates, as well news reports, make it apparent that Wolfe's decision-making wasn't always popular.
One area that didn't suffer under him: football.
MU announced a $72 million renovation of Memorial Stadium, where the Tigers play. To be fair, sports is big business at the school, as Adrienne pointed out:
In 2014, the University of Missouri football team generated $14,229,128. Coach Gary Pinkel recently received a salary increase from $3.1 million to about $4 million; Wolfe, by contrast, made $459,000 per year.
In the end, it was football that forced Wolfe's resignation. After nearly two months of protests over racial incidents on campus—in which Wolfe's response was seen as inadequate—the school's football team announced a boycott. Thirty-six hours later, Wolfe was gone.