The Decline of the American Brothel
The industry has never been widely accepted, but in the age of the Internet it may disappear completely.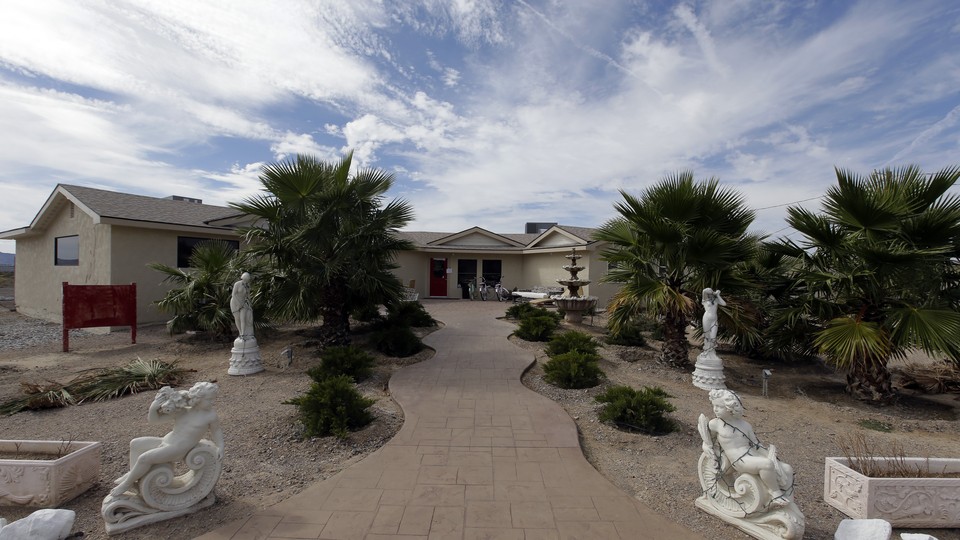 Troubled ex-NBA star and estranged-Kardashian spouse Lamar Odom was hospitalized last week after being found unresponsive in the VIP suite of a Nevada brothel. Odom's condition has apparently begun to improve, even as the sad details of his rock-bottom weekend are emerging. Those details are shedding light on the grim status of the state's brothel industry.
Odom lives in Las Vegas, the Times Square of America: a once-seedy location that is now bright, tacky, and sanitized. Despite popular perception, prostitution is illegal there, and the state's brothels actually operate far away from the glare of the state's largest city.
The brothel in which Odom was discovered is located about 70 miles north of Las Vegas in forlorn Crystal, Nevada, which one USA Today writer called "a pornographic pit-stop on the road to nowhere in particular." The Love Ranch has been described as bland and desolate, surrounded by trailers and a junkyard. It has one star on Yelp.
The Love Ranch epitomizes the sorry state of the industry. Prostitution has been legal in Nevada since 1971, but only in counties of under 700,000 residents, which means brothels are sanctioned in just 12 of the state's 16 counties. According to the Los Angeles Times, there are currently just 17 brothels employing around 300 prostitutes in the state. That's down from 30 brothels in 2009, according to the AP.
Like many statistics on the sex trade, those numbers vary depending on who you ask. But the downward trajectory is clear. "These brothels are really a relic of the past," a state senator told the LA Times. "The urban areas have an appetite to abolish them. And given the state's rapid urbanization, there's really little popular support left for these businesses."
The oldest profession will never disappear completely, but its social and legal contours are ever-shifting. Sex is now easily procured online. As a long-time lobbyist for brothel-owners told the Las Vegas Review-Journal last year, "I think legal, regulated sex for sale is on its way out."
And yet it's hard to imagine Nevada without brothels. They were legalized in the state just 44 years ago, but they were widely tolerated before that. For most of the state's history, they operated in a gray zone where they were winked at—even accounted for in zoning laws—without being officially condoned. The industry first bloomed in the 19th century thanks to miners who poured into the region, particularly around the Comstock Lode—that trove of silver ore whose discovery in 1859 prompted a frenzy that rivaled the California Gold Rush of a decade before. By 1887, the state banned brothels from operating within 400 yards of a school, church, or the equivalent of Main Street. Some brothels operated as boardinghouses, but others were out in the open. In Las Vegas proper, they operated for decades in an area downtown called "Block 16."
In 1971, Mustang Ranch became the first brothel in the state that was not merely not illegal, but actually fully licensed. That made prostitution in Nevada both legal, in restricted areas, and illegal in the rest of the state. Like many other modern brothel owners, the Mustang Ranch's Joe Conforte had a flair for publicity and a knack for trouble. After years of tax trouble—and one suspicious murder of a heavyweight boxer linked with Conforte's wife—Conforte fled to Brazil, where he still lives today. In 2012, the current owner of the Mustang Ranch was elected to a seat on the county board of commissioners, perhaps a sign that brothels are less controversial than ever. Or perhaps they're just less threatening.
In the rearview mirror, the 1970s world of Mustang Ranch looks almost as small as the remote Western towns teeming with rough-and-tumble miners in the 19th century. Until very recently in history, vice took seeking out. Today, pornography is free, and finding real people who are into exactly what you're into has never been smoother. It's not that we're living in an unprecedentedly immoral age, but that we no longer need to drive to seedy brothels in rural counties to procure our poison.
It's an open question whether "brothel-owner" will be much of a profession in the future. But in the meantime, those that remain are as flamboyant as ever. The proprietor of the Love Ranch, where Odom was found last week, is an old-style owner who has shown as much aptitude for capitalizing on publicity as Conforte. Dennis Hof, whose nicknames include "the P.T. Barnum of Booty," has given interviews to a wide variety of news outlets and eagerly hopped into a public feud with the Kardashians. He owns seven brothels in the state, wrote a dishy book about his experiences in the industry, and starred in the HBO reality series "Cathouse."
There may be a reason that Hof has diversified like this: The industry's decline means that Hof is no Hef. But then again, Hef is no Hef these days, either. Last week, Playboy magazine announced it would stop publishing photographs of nude women in its pages. The Internet has apparently killed off girlie magazines for good. Brothels may be next.