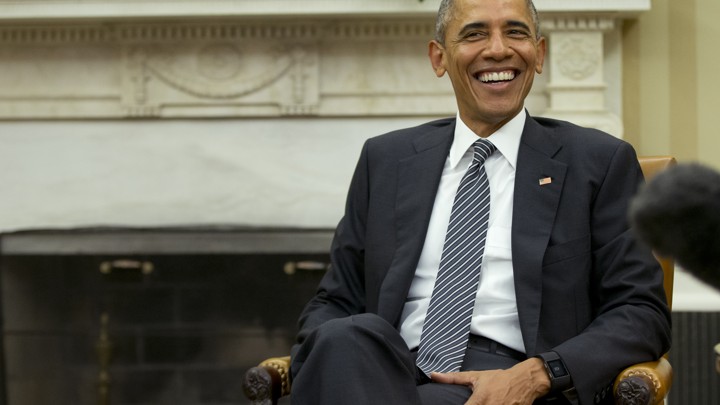 Updated on October 30 at 1:18 p.m. ET
The U.S. is sending a small group of Special Operations Forces to Syria to coordinate with local groups against the Islamic State, the White House announced Friday.
Josh Earnest, the White House spokesman, said fewer than 50 troops will be sent to northern Syria to enhance the capacity of moderate forces opposed to Syrian President Bashar al-Assad. Their job, he said, is to train, advice, and assist moderate Syrian rebels.
"These forces do not have a combat mission," Earnest said. Their "mission is to build the capacity of local forces so that they can be even more effective than they have been."
The announcement comes a little more than two years after President Obama said he would not put "boots boots on the ground in Syria."
But Earnest said Friday: "Our strategy has not changed." But he did add: "This is a dangerous place on the globe. And they are at risk."
The authorization comes just days after Defense Secretary Ash Carter said the U.S. will step up its operations against the Islamic State in Iraq and Syria, including through "direct action on the ground."
Part of the strategy outlined by Carter before the Senate Armed Services Committee: the support of moderate Syrian rebels who have made territorial gains near the Raqqa, the Islamic State's stronghold and administrative capital, and in northern Iraq.
Earnest said Friday that the U.S. was redoubling its efforts in places like northern Iraq where its support of rebel forces has worked, and "shown our willingness to scale back parts of the strategy that aren't showing results."
The comments appear to signal acknowledgment that the strategy against the Islamic State has had limited success. Last month, General Lloyd Austin, the head of U.S. Central Command, said the $500 million American effort to train 5,400 troops had resulted in some "four or five" fighters still in the field.  Carter announced this month the U.S. was looking at other ways to train support the rebels.
Last week, the U.S. revealed that U.S. and Kurdish forces took part in an operation that resulted in freedom for about 70 hostages of the Islamic State. An American service member was killed in the operation in Iraq. At the time, Carter said: "I expect we'll do more of this sort of thing."
Friday's announcement from the White House comes as diplomats from 17 countries, including the U.S. and Iran, a key ally of Syria, are taking part in talks in Vienna over Syria's future.
We want to hear what you think about this article. Submit a letter to the editor or write to letters@theatlantic.com.