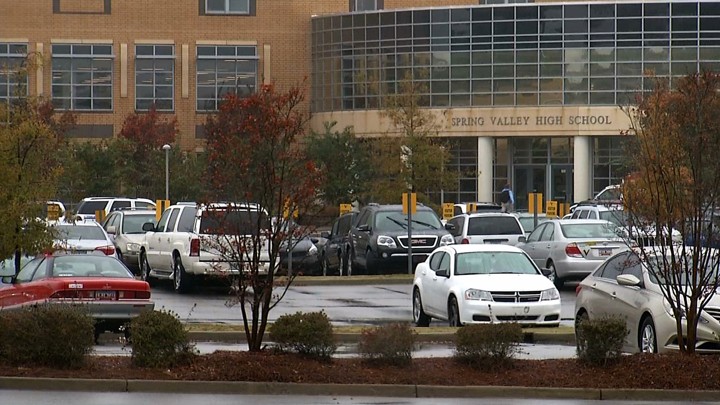 Updated October 28 at 12:21 p.m.
Ben Fields, the school resource officer whose actions against a female high-school student drew national condemnation, has been removed from his post.
Richland County Sheriff Leon Lott said Wednesday during a press conference that Fields has been fired. The officer had been suspended without pay after video footage of his harsh arrest of the student emerged earlier this week.
"It was the right thing to do," Lott said.
Lott said that he has spoken with the student, who has not been identified. He said she was being "disruptive" at the time of the incident, but that her behavior "doesn't justify" Fields' actions. However, "she needs to be responsible for what she did," he said.
Lott said that Fields has had "complaints in the past."
As we reported Tuesday, Fields's encounter with the student at Spring Valley High School in Columbia was captured on video. The circumstances behind the confrontation are still unclear, but Lott has said she had refused to leave the classroom. WLTX has more:
The incident happened inside a math class at the school around 10:30 a.m. Monday. According to Lott, the student was supposed to be working on a project using her computer, but was instead had her cell phone out, perhaps to text. Lott said the girl didn't comply when her teacher told her multiple times to put away the device. An administrator then came to the class, Lott said, and she continued to refuse to obey their requests. Fields was then called to the room to remove her from the room.
Here's what happened next:
There are at least three videos of the encounter—filmed by students—captured from different angles. Two of them show a similar chain of events: Fields approaches the female student, who is seated at a desk. He places his left hand on her arm and then puts his right arm around her neck. At this point, her desk flips over with her still sitting at it. Fields then appears to drag the student and throw her a short distance before restraining her. At least one student, a male, can be seen in the foreground looking down at his desk.
Lott has said a third shows the girl striking Fields as he attempted to remove her. The investigation, Lott said, will not focus on her actions.
"I not only answer to the citizens of Richland County, but also to a 12-year-old in my house—my daughter, who is in the seventh grade," Lott said Wednesday. "This needs to be a learning opportunity for us."
Earlier Tuesday, he had said: "I wanted to throw up, it makes you sick to your stomach. You can't watch the video without having those feelings."
The female student was arrested and charged with disturbing the peace. She was later released to her parents. Niya Kenny, another female student, was also arrested, but later released. Kenny told local TV that she was arrested for screaming and praying loudly.
The Justice Department has opened a civil-rights investigation into "the circumstances surrounding the arrest" to determine if federal laws were broken during the incident. The inquiry will bring together the FBI's field office in Columbia, the agency's Civil Rights Division, and the U.S. Attorney's Office for the District of South Carolina.
Lott on Wednesday praised students for filming the incident. "Our citizens should police the police," he said.
We want to hear what you think about this article. Submit a letter to the editor or write to letters@theatlantic.com.