An Award for a Jailed Saudi Blogger
Raif Badawi, who was sentenced last year to a decade in prison and 1,000 lashes, was honored with the European Parliament's Sakharov Prize.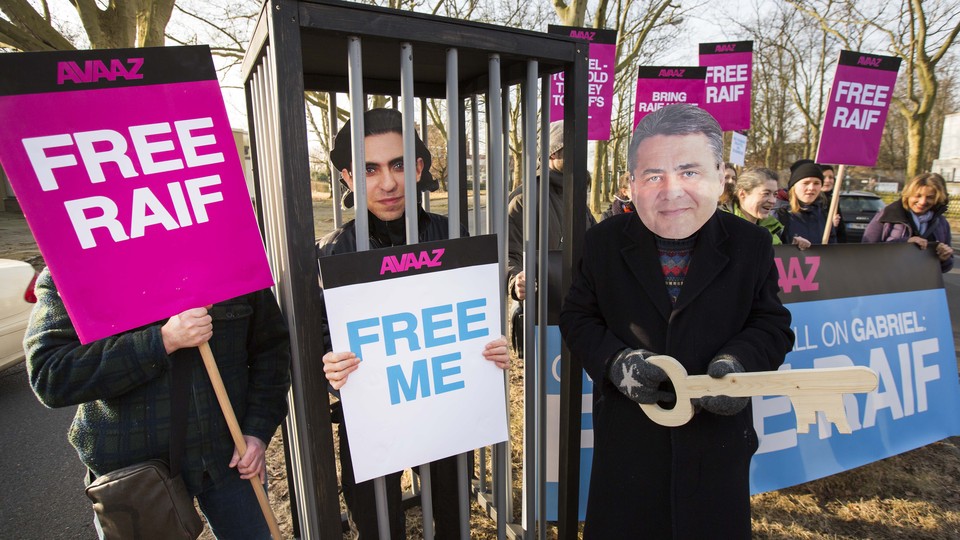 Saudi blogger Raif Badawi was sentenced last year to a decade in prison and 50 lashes a week for 20 weeks—a punishment that has been carried out once so far—for the crime of insulting Islam on his website. On Thursday, the European Parliament awarded Badawi the Sakharov Prize, its human-rights award.
"The conference of Presidents decided that the Sakharov Prize will go to Saudi blogger Raif Badawi," Martin Schulz, the parliament's president, said. "This man, who is an extremely good man and an exemplary good man, has had imposed on him one of the most gruesome penalties that exist in this country which can only be described as brutal torture."
Schulz called on Saudi King Salman to release Badawi, who was arrested in 2012 and initially sentenced to 600 lashes and seven years in prison—a punishment that was increased to 1,000 lashes and 10 years in prison after an appeal. Badawi was accused of insulting Islam on his website Free Saudi Liberals, which served as a forum for debate.
Badawi received 50 lashes in January, but subsequent rounds of punishment have been postponed because of his health and international pressure. In June, the country's Supreme Court upheld the sentence.
This week, his wife, Ensaf Haider, who fled to Canada with their children after the conviction, said she expects the punishment to resume soon, citing an "informed source."
Flogging as a means of punishment is prohibited under the Convention against Torture, an international treaty to which Saudi Arabia is party. The kingdom is a member of the U.N. Human Rights Council, and heads an influential panel on that council.
Badawi was one of the three finalists for the award, which is named for the Soviet dissident and scientist. The other finalists were Venezuela's democratic opposition and Boris Nemtsov, the slain Russian opposition leader.
Previous winners of the prize that honors those who defend human rights and fundamental freedoms include Nelson Mandela and Malala Yousafzai. Last year, the prize was awarded to Denis Mukwege, the Congolese gynecologist who has campaigned against the use of rape as a weapon of war.