An Ailing Lamar Odom
There's no word of the condition of the former NBA and reality-TV star who was found unresponsive in a Nevada brothel.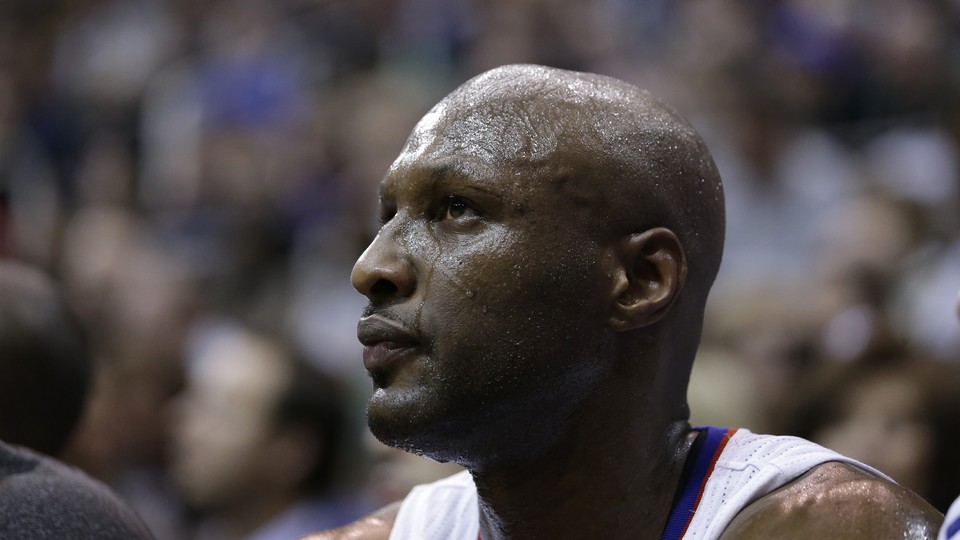 Lamar Odom, the former NBA and reality-TV star, is in hospital in Las Vegas after being found unresponsive in a brothel in Crystal, Nevada. There's been no word of his condition.
A statement from the Nye County Sheriff's Department posted on Facebook said the dispatch center had received a call about Odom's state at about 3:15 p.m. local time on Tuesday from Dennis Hof's Love Ranch. Odom, 35, was transported by ambulance from the brothel to Desert View Hospital where he was stabilized. He was taken by ambulance to Las Vegas because the 6-foot-10-inch, 230-pound Odom was too large to be taken by helicopter.
The reason for Odom's condition is unclear, but he has previously had problems with alcohol and drugs. In 2013, he was arrested for driving under the influence, USA Today reported, and checked himself into a center that treats drug and alcohol addiction.
Hof, who owns several brothels in Nevada, told The Associated Press, his staff had picked up Odom on Saturday from a Las Vegas home.
"He just wanted to get away, have a good time, and relax," he told the AP.
Odom was "happy [and] ... sleeping every night," he said, but the former NBA star was found face down and unconscious on Tuesday when two women went to check on him. He said when they turned Odom over at the direction of the 911 operator, Odom began "throwing up all kinds of stuff." Hof also said Odom had been taking herbal Viagra and had drunk part of a bottle of cognac since arriving at Love Ranch.
TMZ, which first reported on Odom's condition, said Khloe Kardashian, one of reality television's Kardashian sisters, is at his side in Las Vegas. The couple was married in 2009;  Kardashian filed for divorce in 2013, but they remain on good terms.
Mark Medina, a reporter who covers the Lakers for the Los Angeles Daily News, tweeted that several members of the Los Angeles Lakers, including Kobe Bryant, visited Odom at Sunrise Hospital in Las Vegas.
Odom won championship rings with the Lakers in 2009 and 2010. He also played with the Miami Heat, Los Angeles Clippers, and Dallas Mavericks. His professional career ended last year.