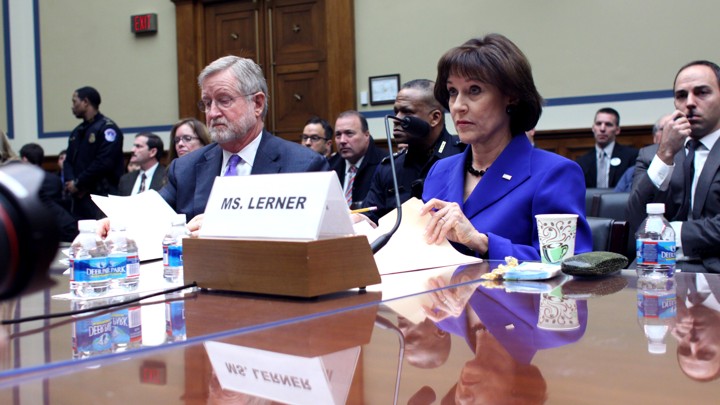 The Justice Department says that while it found "substantial evidence of mismanagement, poor judgment and institutional inertia" at the IRS, it found no evidence of a crime in the way the department treated conservative organizations. The determination, which came in a letter to Congress on Friday, means no charges will be brought against any IRS officials, including Lois Lerner, the former IRS official at the center of the scandal.
"Our investigation uncovered substantial evidence of mismanagement, poor judgment and institutional inertia leading to the belief by many tax-exempt applicants that the IRS targeted them based on their political viewpoints," Assistant Attorney General Peter Kadzik said in a letter to the House Ways and Means Committee. "But poor management is not a crime. We found no evidence that that any IRS official acted based on political discriminatory, corrupt or other inappropriate motives that would support a criminal prosecution."
At issue is the scandal that involved the IRS's decision to hold up applications by Tea Party-related groups for tax-exempt status. An inspector general's audit found that the criteria used by the agency for its decisions were inappropriate. Lerner, who headed the IRS's Exempt Organizations Division, became the key figure in the scandal.  Here's more from USA Today:
The "targeting" began in 2010 during the emergence of the Tea Party movement, when Lerner was the director of Exempt Organizations for the IRS. A 2011 list of groups held up for review obtained by USA TODAY showed that 80% were conservative, although a number of liberal groups had similar problems.
Last year, Lerner denied any wrongdoing and invoked her Fifth Amendment rights, declining to testify before the House Oversight and Government Reform Committee about her role—a move for which she was held in contempt of Congress. She is now retired.
We want to hear what you think about this article. Submit a letter to the editor or write to letters@theatlantic.com.