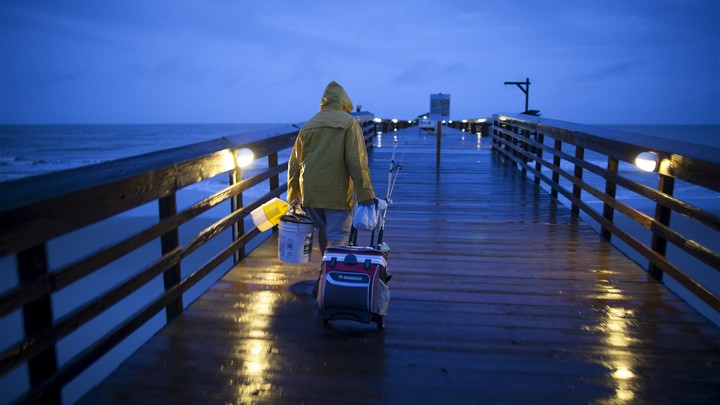 Updated on October 3 at 3:21 p.m. ET
Hurricane Joaquin moved away from the Bahamas on Saturday, after pelting the region 36 hours' worth of heavy rains, damaging winds, and flooding.
Joaquin caused widespread power outages on the three-hardest hit islands of the Bahamas, and reportedly destroyed about 85 percent of homes in a settlement on one island. A cargo ship carrying 30 crew that was sailing near the island chain has gone missing.
Joaquin is the third hurricane of this year's Atlantic season. The latest measurements showed the storm was packing winds up to 130 miles per hour.
The U.S. National Hurricane Center classified the hurricane as a Category 3 hurricane late Friday, down from its previous Category 4 ranking. Joaquin is no longer expected to make landfall in the United States on its northeast path. But states up and down the East Coast should expect to feel its wrath in the form of rain.
Record-setting rainfall and flooding is expected, especially in low-lying areas and coastal regions, like the Outer Banks in North Carolina. North Carolina, Maryland, and New Jersey are operating under states of emergency.
President Obama declared on Saturday afternoon a state of emergency in South Carolina in response to severe flooding, which means the Federal Emergency Management Agency (FEMA) will coordinate all disaster relief efforts there. Here's the scene in Charleston, from the Associated Press:
Portions of some streets were flooded, with water roughly 8 to 12 inches deep, reaching the wheel wells of cars in some spots. Police have stationed officers and set up barricades all over the city blocking roads. No one is being allowed into Charleston, and once people drive out, they won't be allowed back in until the flooding subsides.
As meteorologist Ryan Maue told the AP: "It's going to be a slow-motion disaster."
We want to hear what you think about this article. Submit a letter to the editor or write to letters@theatlantic.com.