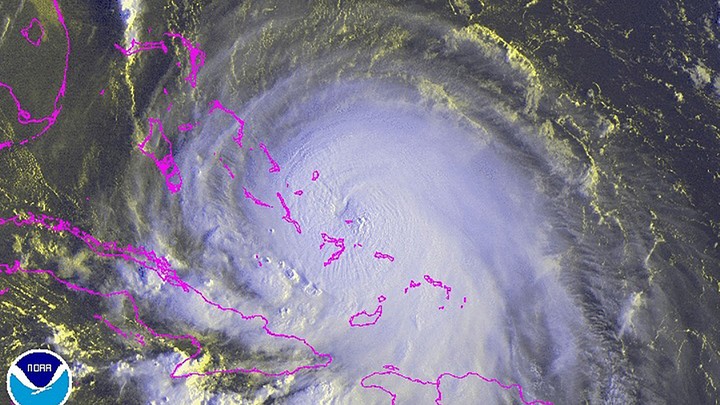 Updated on October 1 at 4:52 p.m.
On Thursday afternoon, as Hurricane Joaquin continued to gather steam, the National Hurricane Center upgraded the storm to a Category-4 classification. According to reports, the storm now has registered maximum winds of 130 miles-per-hour around the Bahamas.
Officials are now beginning to prepare for the possibility of the storm making landfall and potentially causing serious damage. Three states—Virginia, New Jersey, and North Carolina—preemptively declared states of emergency on Thursday afternoon, using some very precise language.
I've declared a State of Emergency ahead of this storm.

— Governor Christie (@GovChristie) October 1, 2015
"We're hoping for the best, but hope is not preparation nor is it a plan," said North Carolina Governor Pat McCrory in a statement.
Citing the storm, Donald Trump also canceled a rally set for Friday evening in Virginia Beach, Virginia.
As Reuters notes, computer models are forecasting different trajectories for the storm, some of which project Joaquin making brief landfall in the mid-Atlantic states, weakening, and moving offshore while another predicts the storm will change course and remain out at sea.
---
Almost as quickly as it first appeared on radar, Hurricane Joaquin has become an increasing concern for Americans on the East Coast.
Over Wednesday evening, the storm was upgraded to a Category 3 hurricane as it passed near the Bahamas and, according to the National Hurricane Center, "a turn toward the northwest and north is forecast Thursday night or Friday" is expected.
Despite this forecast, Rick Knabb, the director of the National Hurricane Center, said the likelihood of Joaquin making landfall is far from certain:
We've got Air Force reconnaissance planes continuously giving us data from inside the hurricane this morning, and we're going to be throwing a lot more aircraft resources at this problem over the next few days because it still is not certain whether or not Joaquin will directly impact the U.S. East Coast or stay out to sea.
Residents of the Bahamas battled storm surges and flooding as Joaquin drew close on Wednesday evening with reports of winds reaching 120 miles-per-hour. Some minor damage was noted with the storm expected to bear down on the islands on Thursday.
#Joaquin eye now visible on #GOES floater IR Satellite as it impacts the Bahamas.Stay tuned to @NHC_Atlantic forecast pic.twitter.com/C7AdCRFsFU

— NWS Memphis (@NWSMemphis) October 1, 2015
Elsewhere, heavy, sustained rain in the Carolinas from other weather systems has already caused flooding and has been linked to at least one death. The National Weather Service is cautioning that the East Coast from the Carolinas to Massachusetts could see as much as ten inches of rain by early next week.
We want to hear what you think about this article. Submit a letter to the editor or write to letters@theatlantic.com.
Adam Chandler
is a former staff writer at
The Atlantic
. He is the author of
Drive-Thru Dreams: A Journey Through the Heart of America's Fast-Food Kingdom
.