Why Des Moines Is a Millennial Paradise Right Now
Housing data suggest young people are flocking to the city for cheap homes and a trendy new scene.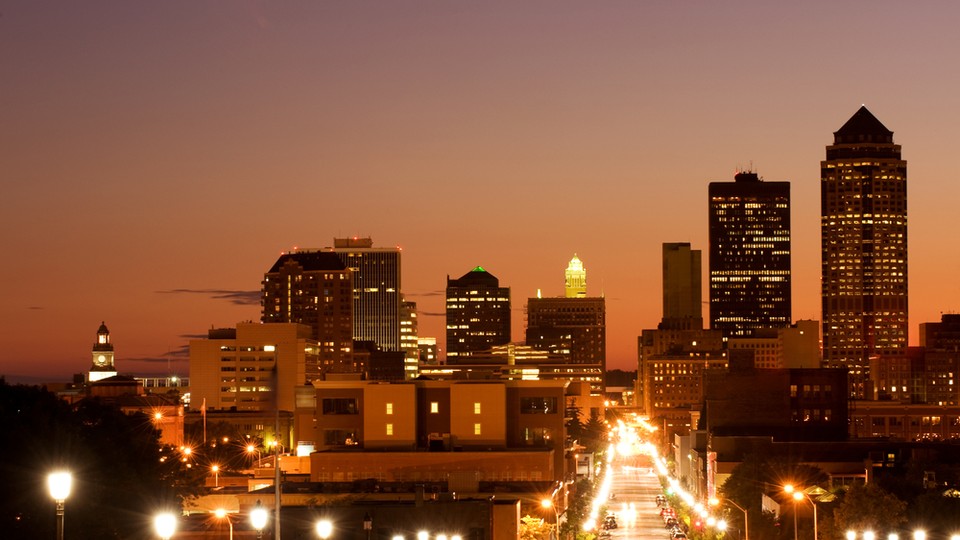 New York, D.C., San Francisco—they had a good run.
But the iconic urban centers of America, after reeling in countless generations of young people in the past, are now growing cramped, unpleasant, and absurdly expensive, leading Millennials to think twice before committing to life in one of these cities. Some are opting to escape the less-than-ideal conditions of major metropolitan areas altogether.
So where are they going? Iowa, for one. According to data from Realtor.com compiled by Bloomberg, first-time home buyers are currently snatching up heaps of real estate in Des Moines, the state's capital, which has a population of roughly 203,000.
In the first half of 2015, Millennials made up around 60 percent of people who used a mortgage to buy a home in the city, according to the data. Since this figure hovers around 37 percent on a national level, Des Moines appears to be the most Millennial-friendly city in America, at least in terms of its housing market. The median price for a home in Des Moines right now is just $218,000. (That's compared to $738,000 in San Francisco, and—literally—$1 million in Manhattan.)
Though arguably not as trendy as, say, Brooklyn, Des Moines has also slowly been carving out a reputation for itself as something of a nouveau hipster haven. Its population of Millennials swelled from 2006 to 2013 at twice the average national rate, and even established hipster meccas like Portland, Oregon, concede that Des Moines' low cost of living, flourishing tech industry, and thriving music scene are making it a top destination for some of America's young people. Millennials like Des Moines so much they're even populating its suburbs.
Other fledgling cities that are sparking—or reigniting—young interest, according to the Bloomberg report, include Pittsburgh, New Orleans, and Louisiana's Baton Rouge.