Editor's Note:
This article previously appeared in a different format as part of The Atlantic's Notes section, retired in 2021.
Fallows promotes on Twitter an extensive, ongoing feature from The Guardian illustrating mass shootings across the U.S.: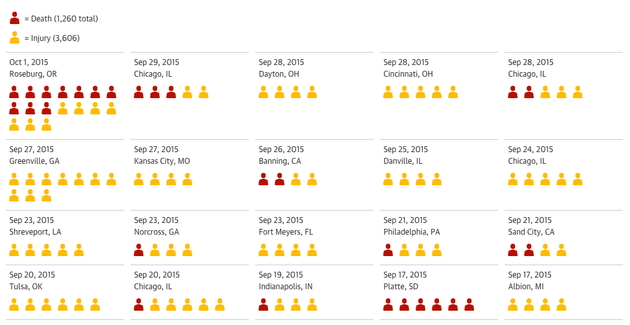 The whole, depressingly long graphic is here. The current tally is "994 mass shootings in 1,004 days." Those six red figures in the lower-right corner probably caught your eye, too. Details:
Scott and Nicole Westerhuis, along with their four children, third-grader Kailey, fifth-grader Jaeci, eighth-grader Connor, and sophomore Michael were believed to have died in a fire on Sept. 17 at their home at 36705 379th Street, 3 miles south of Platte.

On Monday, the South Dakota Attorney General's Office released the family's preliminary autopsy reports, which indicate that cause and manner of death for Nicole, Kailey, Jaeci, Connor and Michael Westerhuis were homicide by shotgun wounds. The attorney general's office released information late on Monday that says the cause of death for Scott Westerhuis is suspected suicide based on the current investigation findings.