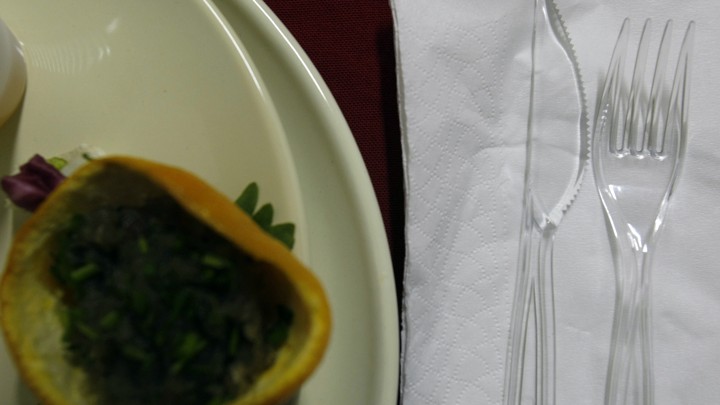 The historic drought in California, in addition to being linked to wildfires and economic and agricultural troubles, has forced residents and officials to grapple with divisive lifestyle changes. Consider this polarizing aerial shot of a golf course in San Bernardino or the devil-may-swim attitude of some wealthy Californians in the face of water restrictions and threats of fines.
Watching this challenge play out along state and local levels is a surreal exercise. For a restaurant-goer, for example, only receiving a glass of water upon request seems like a small, but telling departure from a normal dining experience. In Fort Bragg, California, conditions are so severe the city recently passed an emergency order that prohibits the watering of landscaping and the washing of building exteriors, sidewalks, driveways, and cars.
The city is also requiring restaurants to refrain from using plates, cups, and silverware that require washing. That means if you go to one of the coastal city's tourist-friendly canteens or trattorias, you could end up eating your $30 Snapper Vera Cruz on a paper plate or drinking your Anderson Valley pinot noir from a plastic cup.
"You might be able to cut a filet mignon with a plastic knife, but you are not going to cut a New York," one Fort Bragg restauranteur told the San Francisco Chronicle. "The expense is going to be horrendous, I would expect. So that's going to be a major impact. It seems to me there are other ways to save water."
The measure also rings of filling a landfill to spite a drought. But with water levels so low that ocean water is trickling into Fort Bragg's drinking supply, it's tough to second guess.
We want to hear what you think about this article. Submit a letter to the editor or write to letters@theatlantic.com.
Adam Chandler
is a former staff writer at
The Atlantic
. He is the author of
Drive-Thru Dreams: A Journey Through the Heart of America's Fast-Food Kingdom
.