An Oregon Community Mourns
More details are emerging about the shooter who killed nine people and wounded at least seven others at Umpqua Community College.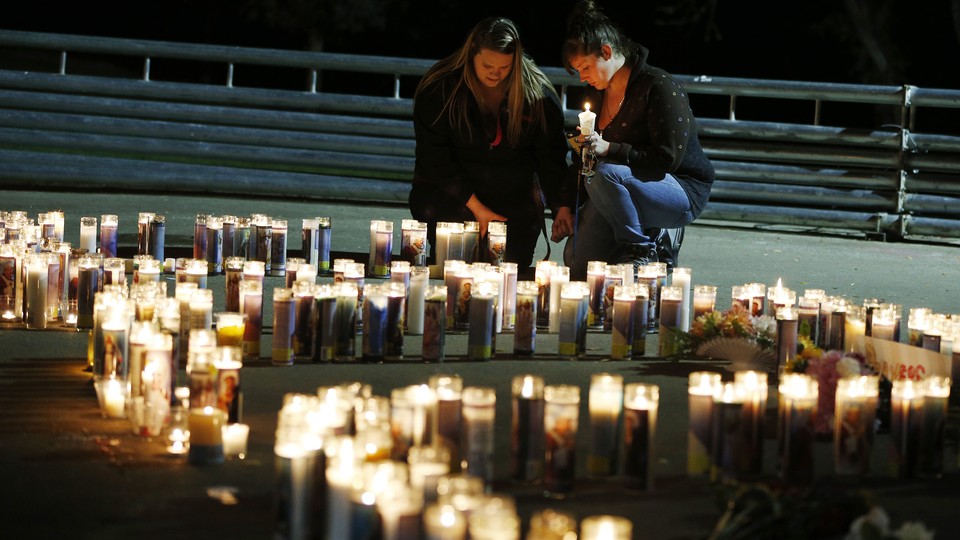 Updated on October 2 at 4:38 p.m. ET
President Obama says he will continue to discuss the issue of gun violence in order to bring about change in the country's gun laws.
"This will not change until the politics changes," he said at a Friday afternoon news conference, a day after a gunman opened fire at a community college in Oregon, killing nine people.
"I'm going to talk about this and I will politicize it," Obama said, referring to his remaining time in office.
The comments echo those Obama made Thursday night after the shooting at Umpqua Community College in Roseburg, Oregon.
"This is a political choice that we make, to allow this to happen every few months in America," he said Thursday night.
"We've become numb to this," Obama said. "We talked about this after Columbine, Blacksburg, Tucson, Newtown, Aurora, after Charleston."
The community in Roseburg, Oregon, is in mourning after the killings, searching for answers while the nation debates gun control.
At a news conference Friday, Governor Kate Brown said: "There is no single solution, but we must do better.  This is a conversation we will have, but this is not the day."
Hundreds of people showed up Thursday at night at Roseburg Park for a candlelight vigil for the victims of one of the worst mass shootings on a college campus.
"In our sorrow, we will remember and honor those lost here today," Brown said at the vigil. "And in this way, they will live forever in our hearts."
Meanwhile, more details are emerging about the shooter, who has not yet officially been identified. Multiple news reports say he is Chris Mercer Harper, 26. The gunman was killed in an exchange of fire with police officers.
Harper's father, Ian Harper, says the massacre has been "devastating for me and my family." He told media in Tarzana, California, he was "shocked" by the events, and that he and his family were cooperating with investigators.
Law enforcement officers, including those from the FBI and the Bureau of Alcohol, Tobacco, Firearms and Explosives, went into an apartment complex about 2 miles from the community college campus in Roseburg on Thursday evening.
The ATF says six weapons were recovered from the school and seven from the gunman's home. All were bought legally—some by the gunman and some by members of his family.
Douglas County Sheriff John Hanlin says it's too soon to tell what the gunman's motive was.
Hanlin has refused to name the shooter, saying he doesn't want to glorify him.
"I don't want to glorify his name," he said. "I don't want to glorify his cause."
Those who knew Harper say he was withdrawn, close to his mother, and sought a community online. A post on MySpace that appears to belong to him shows a young man with a shaven head holding a gun. He also apparently expresses sympathy for the Irish Republican Army.  Another picture on the site shows him wearing a tuxedo on his sister's wedding day.
Multiple news reports cite a profile of Harper's on an online dating site in which he describes himself as "not religious, but spiritual." He also described himself as an "introvert," a description that many of his former neighbors in California agreed with.
Harper and his mother reportedly moved from Torrance, California, to Oregon a couple of years ago.
Bryan Clay, a former neighbor in the Los Angeles suburb, told NBC Los Angeles that Mercer kept to himself.
"I'd see Chris, shaved head, combat boots, camo pants and a plain brown or white shirt," Clay said. "He would really just walk really fast, avoid anybody who came towards him."
CNN quoted a Pentagon statement as saying Harper was in the Army at Fort Jackson, South Carolina, from November 5, 2008, to December 11, 2008, but her was "discharged for failing to meet the minimum administrative standards to serve."
Bronte Hart, a neighbor in the apartment complex Mercer lived in in Oregon, told The New York Times Harper frequently shouted at her for smoking on her balcony.
"He yelled at us, me and my husband," she told the newspaper. "He was not a friendly type of guy. He did not want anything to do with anyone."
Others remember "a good kid." One neighbor who spoke to the Times said he'd spoken to Mercer briefly over the past few years. He said: "He's always been polite to me."