The Kid Who Got Arrested for Making a Clock Goes to Qatar
Ahmed Mohamed and his family are moving to Doha, where the 14-year-old high-schooler was awarded a full scholarship to study.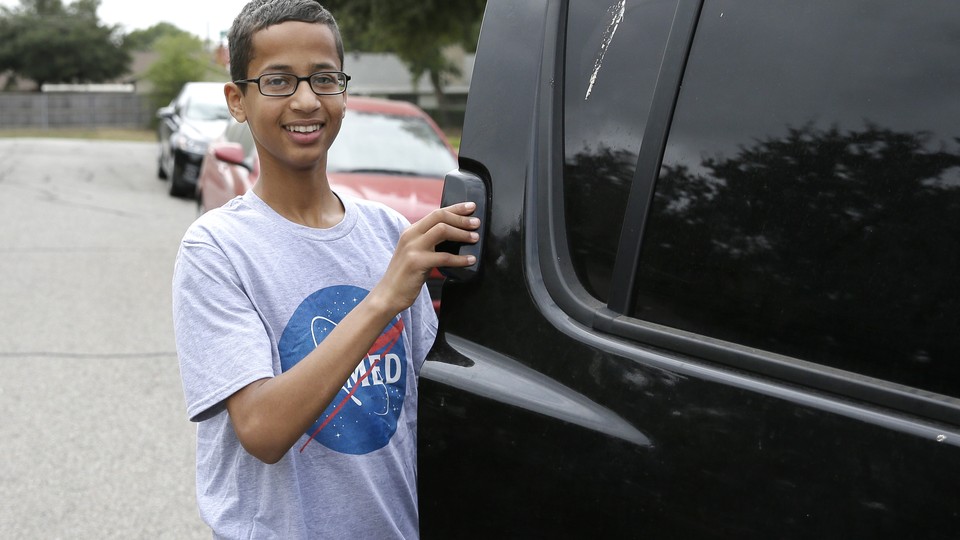 Last month, 14-year-old Ahmed Mohamed's attempt to impress his teacher with a homemade clock landed him in handcuffs when officials at his school in Irving, Texas, thought it resembled a bomb and called police. His treatment resulted in international headlines, a heated debate over anti-Muslim bias, invitations to visit Facebook, Google, and the White House, and, now, a decision to move to Qatar where Mohamed was awarded a full scholarship.
"Ahmed is the latest recipient of a scholarship from the Young Innovators Program which supports young, exceptional Arabs by offering educational opportunities in Qatar," the Qatar Foundation, the organization that awarded the scholarship, said in a statement. "The program encourages recipients to follow their aspirations in education while fostering a culture of innovation and creativity."
Mohamed and his family will move from Irving to Qatar in the near future. Mohamed had visited the country, along with Saudi Arabia, earlier this month amid a whirlwind of publicity surrounding his story, and toured the Qatar Foundation's facilities. The foundation has partnerships with several Western universities, including Carnegie Mellon, Texas A&M, and Northwestern, which have satellite campuses there.
"I was really impressed with everything that Qatar Foundation has to offer and the campuses are really cool," Mohamed said in the statement. "I got to meet other kids who are also really interested in science and technology. I think I will learn a lot and also have lots of fun there."
The Dallas Morning News reports that schools from across the country had tried to woo Mohamed, but it was the Qatari offer "that most intrigued the family." The newspaper reported that Mohamed will study at the Doha Academy while his siblings find schools in Doha, the Qatari capital.
"Looking at all the great offers we've had, it's the best decision," Eyman Mohamed, his 18-year-old sister, told the newspaper. "They even have Texas A&M at Qatar … It's basically like America."
In an interview with the newspaper, Mohamed Elhassan Mohamed, the teenager's father, said: "We are going to move to a place where my kids can study and learn and all of them being accepted by that country."
Despite all the goodwill fostered in the wake of his infamous arrest, some aspects of Mohamed's recent activity have not escaped controversy. During a trip to Sudan, his father's native country, Mohamed met and posed for pictures with President Omar al-Bashir, who is wanted by the International Criminal Court for alleged war crimes in Darfur.
Mohamed's new affiliation with the Qatar Foundation is not necessarily beyond reproach either. A mosque affiliated with the foundation's Education City campus, where Mohamed will be studying, has been accused of hosting radical "hate-preachers" with legacies of anti-American and anti-Semitic sermons.