Which Mountain Will Obama Climb?
Editor's Note:
This article previously appeared in a different format as part of The Atlantic's Notes section, retired in 2021.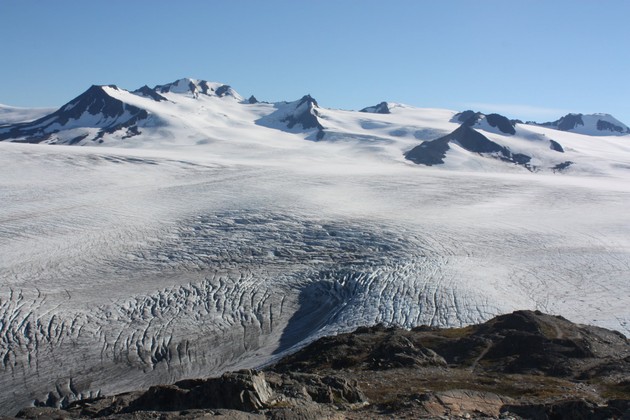 A day after trying to scare the heck out of the world about climate change at a conference on the Arctic, President Obama is traveling today to the Kenai Peninsula, where he'll hike the Exit Glacier. The glacier is a giant ice field near Seward, Alaska that has been receding for more than a century. I know this because I traveled there last week as part of my visit to Alaska in advance of Obama's trip.
What I'm wondering today is: Just how much of the Exit Glacier will he climb?
The president is in pretty good shape (though not Paul Ryan shape), and often hits the treadmill on his trips. But the true Exit Glacier hike, if he wants to see miles and miles of ice fields and actually walk on one of the last accessible glaciers in the nation, requires an 8.2-mile round-trip hike and 3,000 feet of elevation gain. From the top of the Harding Ice Field, the president will be able to see peaks covered in ice, and turn around and compare those peaks to mountains that had once been covered by ice and are now bare. The National Park Service rates this hike as strenuous.
The Park Service also offers up a 1.2-mile trail that involves a little scrambling over rocks to the edge of the glacier (this is perhaps recommended for a president who still wants to look like he's hiking without actually exerting himself or the reporters following him). And for the lazier president, who doesn't want to change out of his dress shoes or who forgot his sneakers, there's also a half-mile paved loop popular with people who have just gotten off the tour bus and want to say they've seen a glacier.
So which one will Obama do? The president quoted the song "Ain't No Mountain High Enough" in a April speech to the Prime Minister of Japan, and critics have used the song to criticize the president after he announced earlier this week that the nation was renaming Mt. McKinley. But Tuesday's visit to Seward will be the real test—is there a mountain too high for Obama to spot the true effects of a receding glacier?