Where the Twin Towers Ended Up
Through a Port Authority program, thousands of pieces of World Trade Center steel have been turned into memorials in all 50 states.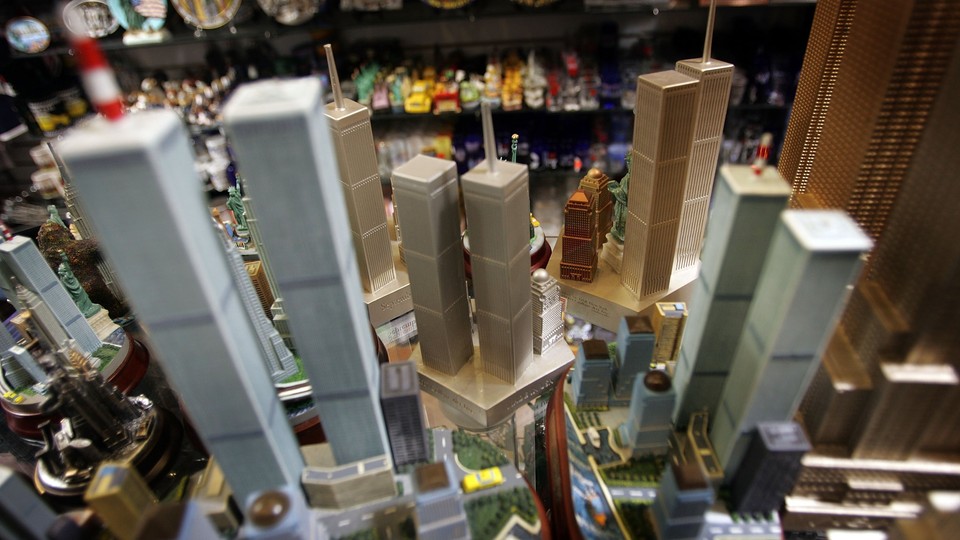 When the Twin Towers came down 14 years ago, about 200,000 tons of steel slammed into the ground. In the months after, rescuers searched through the debris and the mangled metal, looking for those who survived and those who didn't. Every day, hundreds of trucks carried rubble out of the site.
Shortly after the attacks, New York City sold 175,000 tons of World Trade Center steel scrap to be made into something else. Some went to cities in the United States; about 60,000 tons went to companies in China, India, and South Korea. But some steel was recovered from Ground Zero for a different purpose: to be memorialized.
For years, that steel, along with hundreds of other artifacts from that day—crushed police cars, elevator parts, souvenirs, and jewelry from the underground mall—was stored in an 80,000-square-foot hangar at John F. Kennedy International Airport. The 840 pieces of steel were cut to create 2,200 chunks. Since 2008, the Port Authority of New York and New Jersey has doled out these artifacts to government and nonprofit organizations for free. Now, just 30 remain.
The Port Authority program has provided artifacts to 1,500 entities nationwide, in all 50 states and several countries. Across the country, bits of beams that once held up the towers stand outside of fire departments, inside municipal buildings and libraries, in town squares and museums, including the National Sept. 11 Memorial and Museum at Ground Zero. The biggest chunk of steel, weighing 47,000 pounds, was given to the Stephen Siller Tunnel to Towers Foundation, which raises money for first responders injured or killed in the line of duty. The smallest—a handful of nails fused together—was given to the office of New York Senator Chuck Schumer. There's steel at American military bases in Afghanistan and South Korea, the U.S. Embassy in Germany, the Imperial War Museum in London, even a police station in Brazil.
In Westerville, Ohio, an 18-foot-long, two-ton piece of steel, bent in the middle from the impact of the first plane, stands in First Responders Park. "It wasn't just a New York or New Jersey tragedy," says Tom Ullom, a retired Westerville firefighter who called the Port Authority once a week for seven years to ask for the steel. "It just affected so many people everywhere."
A Port Authority spokeswoman could not say for sure the number of requests the agency has received over the years, but it's safe to say there were many. The memorialization of the tragic events of September 11 has become part of a healing process for victims, their families, and the general public.
Acquiring World Trade Center steel can take several years. Those who seek artifacts for private ownership—like the person who asked for steel for a class ring—are rejected. All applicants must agree to publicly display the steel, and Port Authority officials work with applicants to determine the best size and shape to fit their proposed designs. Once approved, recipients either pick up the artifacts themselves from JFK Airport, or, if the size allows, have them shipped to their hometowns.
Sterling Claypoole, an assistant fire chief and chaplain, drove 22 hours to New York in 2010 to bring a 695-pound chunk of I-beam from the South Tower to the residents of El Dorado, Arkansas. "It allows them to live in the lives of other people in history," says Claypoole, who went to New York after the attacks to provide crisis counseling for emergency-service workers.
Roger Smallbeck, a retired fire chief in Chanhassen, Minnesota, exchanged emails with Port Authority officials for two years. He didn't tell anyone about it in case it didn't work out. In 2010, a package from UPS arrived carrying an 80-pound piece of I-beam. Smallbeck had paid just $60 to have it shipped.
"I had it sitting on the table down in the meeting room and I had a big towel draped over it," he says of his reveal to his fellow firefighters. "I said, 'Here's a piece of the World Trade Center,' and pulled the cover off it."
Right now, about 40 groups are in talks to receive the remaining artifacts. The Port Authority has advertised its program in police and fire trade magazines. At the beginning, the agency reached out to Lee Ielpi, board president of the September 11 Families' Association and a retired New York City firefighter. Ielpi, who lost his son Jonathan, a firefighter, on that day, says they talked about the "right way" to distribute the artifacts. Ielpi told them he knew a day after the attacks what that was.
"I realized that—I think everybody realized that—the significance of what just happened yesterday on September 11 is something that's going to change our world and, God willing, we need to share some of this significance," he says. "And what better way to share it than by giving stuff away?"