What We're Following This Afternoon
Editor's Note:
This article previously appeared in a different format as part of The Atlantic's Notes section, retired in 2021.
Leaders at the U.N.: President Obama says the U.S. "is prepared to work with any nation, including Russia and Iran, to resolve the conflict" in Syria, but added they must recognize Syria's future must be without Bashar al-Assad as its leader. Attending the General Assembly for the first time since 2005, Russian President Vladimir Putin said excluding the Syrian government from the fight against ISIS is "an enormous mistake." The two leaders will meet later today.
Water on Mars: NASA announced today scientists had discovered the strongest evidence yet there's liquid water on the surface of Mars. As Adrienne reports, the briny water is "a critical step toward identifying possible life on Mars."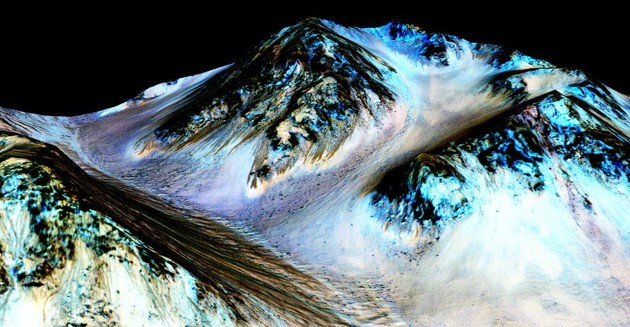 Volkswagen in trouble: German prosecutors have begun a criminal investigation of Martin Winterkorn, though that doesn't mean they will necessarily open a formal investigation of the former Volkswagen CEO. Winterkorn, who resigned last week amid the emissions-testing scandal, has denied he knew of the automaker's deception. Also today, Volkswagen subsidiary Audi said 2.1 million of its diesel vehicles were fitted with the "defeat devices."
Taliban on the rise: The Taliban has captured key locations in the strategically important northern Afghan city of Konduz. The provincial capital's fall would mark the first time the Taliban has captured a major city since 2001. Update: More here.
Joyce Mitchell in prison: The former prison worker who helped two convicted murders escape from the Clinton Correctional Facility in New York in June was sentenced today to up to seven years in prison. Under a plea deal she struck with prosecutors over the summer, Mitchell admitted helping Richard Matt and David Sweat escape. "If I could take it all back I would," she said today in court.