What the FBI Can't Tell Us About Crime
The bureau released its national crime statistics for 2014 on Monday, but there are important caveats.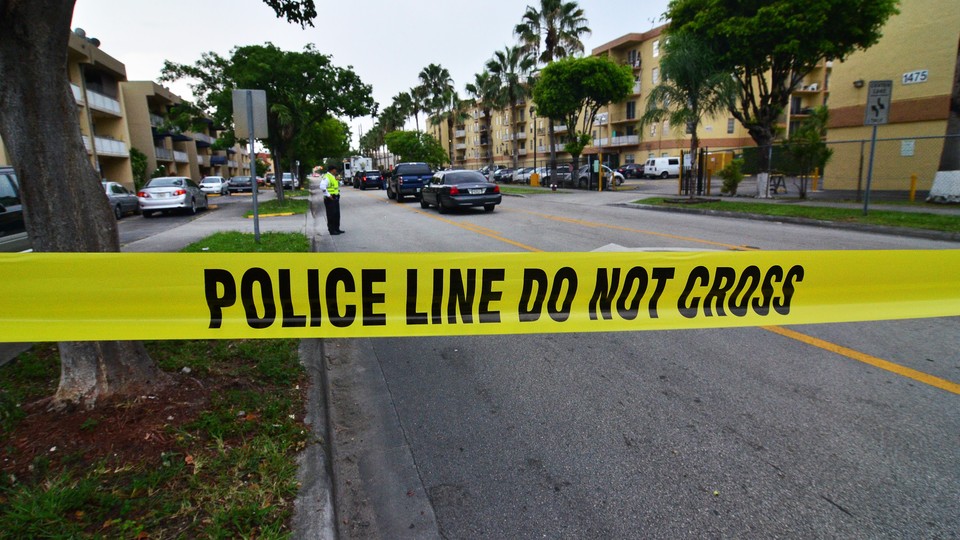 The FBI says violent crime fell again across the nation last year, continuing a two-decade-long downward trend.
The 2014 edition of the Uniform Crime Report released Monday said violent crime dropped nationwide by 0.2 percent. New England saw the sharpest declines, with double-digit falls in New Hampshire, Rhode Island, and Vermont. Outside of the Northeast, the numbers varied greatly: Illinois saw an 8.3 percent decline, for example, while Florida saw reports of violent crime increase by almost 17 percent.
The UCR is the most well-known measure of crime in the United States, but it's not flawless. FBI Director James Comey, who told reporters in April that it was "ridiculous that I can't tell you how many people were shot by the police last week, last month, last year," announced a new initiative Monday to collect more data on police shootings in the wake of high-profile incidents over the past year. But activists warned that police departments would still submit data on a voluntary basis instead of through a desired mandatory system.
As I noted in May, much statistical information about the U.S. criminal-justice system simply isn't collected. The number of people kept in solitary confinement in the U.S., for example, is unknown. (A recent estimate suggested that it might be as many as 80,000–100,000 people.) Basic data on prison conditions is rarely gathered; even federal statistics about prison rape are generally unreliable. Statistics from prosecutors' offices on plea bargains, sentencing rates, or racial disparities, for example, are virtually nonexistent.
Without reliable data on crime and justice, anecdotal evidence dominates the conversation. There may be no better example than the so-called "Ferguson effect," first proposed by the Manhattan Institute's Heather MacDonald in May. She suggested a rise in urban violence in recent months could be attributed to the Black Lives Matter movement and police-reform advocates.
"The most plausible explanation of the current surge in lawlessness is the intense agitation against American police departments over the past nine months," she wrote in the Wall Street Journal.
Many others have disputed MacDonald's analysis. Using data from the first half of 2015 from the 60 most populous U.S. cities, FiveThirtyEight's Carl Bialik wrote that despite an overall increase in homicides, the picture was far murkier than what MacDonald portrayed.
Most of these changes aren't statistically significant on a city level. Even amid the national upward trend, and in some of the country's most populous cities, homicides remain, thankfully, a rare event. That means some increases that look large on a percentage basis affect the raw totals only slightly, to an extent that could arise by chance alone. A 20 percent increase in Seattle sounds a lot more significant than an increase to 18 homicides from 15 through Aug. 29. Homicides in Arlington, Texas, through Aug. 31 are down by 50 percent — to four from eight.
Gathering even this basic data on homicides—the least malleable crime statistic—in major U.S. cities was an uphill task. Bialik called police departments individually and combed local media reports to find the raw numbers because no reliable, centralized data was available. The UCR is released on a one-year delay, so official numbers on crime in 2015 won't be available until most of 2016 is over.
These delays, gaps, and weaknesses seem exclusive to federal criminal-justice statistics. The U.S. Department of Labor produces monthly unemployment reports with relative ease. NASA has battalions of satellites devoted to tracking climate change and global temperature variations. The U.S. Department of Transportation even monitors how often airlines are on time. But if you want to know how many people were murdered in American cities last month, good luck.