The Very Sudden Arrival of Hurricane Joaquin
Just a few days ago, the East Coast was in for some rain. Now, there may be a serious storm.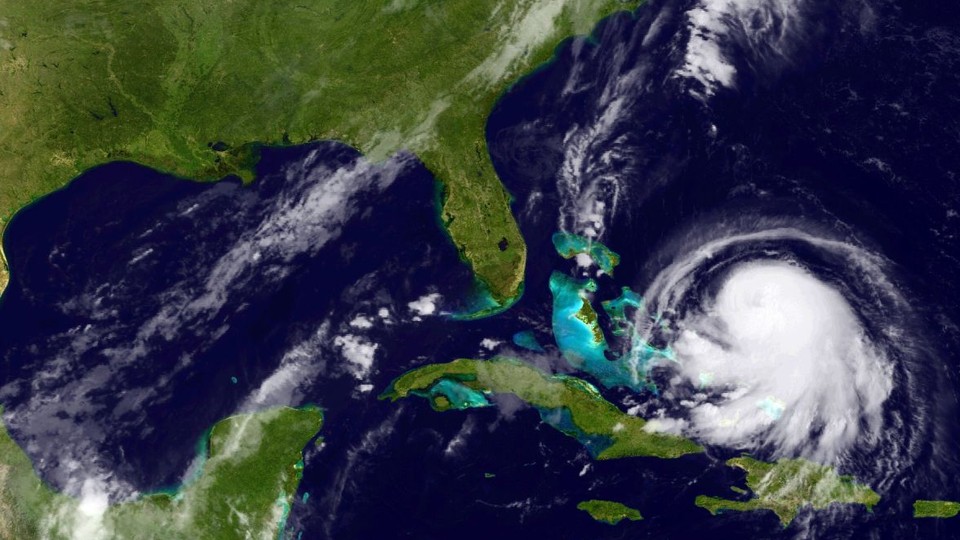 Although science may be capable of proving humanity's disdain for Mondays, this past Monday wasn't so bad. The world found out there is water on Mars. Many of us had just enjoyed a supermoon-cum-lunar eclipse. And, just two days ago, the heavy rain predicted to hit the East Coast was not attached to a hurricane.
And now, there's Hurricane Joaquin, which by some accounts, may make landfall by the weekend and is already eliciting comparisons to previous disasters:
Heavy Joaquin-related precipitation is already expected with the potential for over a foot of rain in the Bahamas. While meteorologists still aren't certain if the hurricane will hit land, some are predicting that downpours from other weather systems, very strong winds, and some flooding will happen regardless of weather Joaquin reaches the United States. Others yet are warning that the storm could strengthen as it reaches warmer water.
By late Wednesday morning, the National Hurricane Center updated its projection to show the likely possibility of Joaquin meeting with the mid-Atlantic states before carrying north. As Eric Holthaus at Slate notes,"Basically, all options are still on the table, but the characteristically deliberate NHC seems increasingly on board with an East Coast landfall."
Despite the uncertainty, the sudden specter of a serious storm going from North Carolina to Massachusetts is a reminder of the remaining limitations of our ability to predict disasters. (For more on that, my colleague David Graham recently wrote a must-read piece about how emergency planners prepare for natural disasters in the United States.)
In the meantime, we'll keep you updated on Joaquin's path as the forecasts adjust.