Oklahoma Halts Execution of Richard Glossip
In a last-minute order, Oklahoma Governor Mary Fallin issued a stay of execution amid questions about the lethal-injection drugs.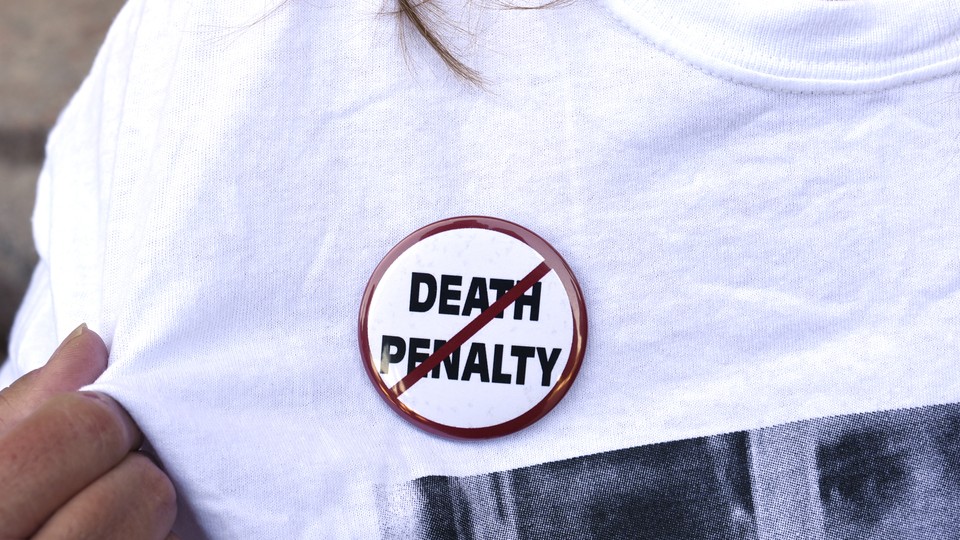 Updated on September 30 at 5:30 p.m.
Oklahoma Governor Mary Fallin issued a last-minute stay of execution for Richard Glossip on Wednesday afternoon amid questions about the drugs purchased for his lethal injection.
"Last minute questions were raised today about Oklahoma's execution protocol and the chemicals used for lethal injection," Fallin said in a statement. "After consulting with the attorney general and the Department of Corrections, I have issued a 37 day stay of execution while the state addresses those questions and ensures it is complying fully with the protocols approved by federal courts."
Oklahoma's lethal-injection protocol uses a three-drug cocktail of midazolam, pancuronium bromide, and potassium chloride to sedate, paralyze, and kill the inmate. According to the governor's executive order, the state purchased potassium acetate instead of potassium chloride, and is currently exploring whether it can lawfully use potassium acetate to execute Glossip.
The stay raises new questions about Oklahoma's secretive lethal-injection protocol. In June, the U.S. Supreme Court upheld the state's use of the controversial sedative midazolam in executions in the wake of the botched execution of Clayton Lockett in April of 2014. Glossip was the lead plaintiff in that case, and would have been the first person executed by Oklahoma since the decision. His next execution date is November 6.
Updated on September 30 at 4:06 p.m.
The U.S. Supreme Court has denied a stay of execution for Richard Glossip, a death-row inmate in Oklahoma whose claim of innocence had attracted international attention, paving the way for his execution Wednesday evening.
The Oklahoma Court of Criminal Appeals had granted Glossip a two-week stay of execution on September 16 to review new evidence. On Monday, they rejected his appeal and allowed the execution to proceed. Glossip then petitioned the Supreme Court for a stay of execution and filed a writ of certiorari in which he argued he is innocent. On Wednesday evening, the court rejected his appeal.
An Oklahoma jury sentenced Glossip to death for his role in the murder of motel owner Barry Van Treese in January 1997. Glossip worked at the motel Van Treese owned, but did not kill him. Justin Sneed, another motel employee, claimed that Glossip paid him to bludgeon Van Treese to death. No direct physical evidence linked Glossip to Van Treese's murder, though prosecutors cited his erratic behavior on the day of the murder at trial. In exchange for his testimony, Sneed received a life sentence.
Glossip's lawyers argued that Sneed lied about their client's involvement. They submitted affidavits from two of Sneed's former cellmates that cast doubt on his version of events. According to Joseph Tapley, with whom Sneed shared a cell before his trial, Sneed described the murder in detail on multiple occasions and never mentioned Glossip's involvement or any payment. Michael G. Scott, who occupied the cell across from Sneed in state prison for most of 2006, said in an affidavit that Sneed frequently said he had lied about Glossip's involvement.
Oklahoma City District Attorney David Prater had dismissed the last-minute appeals for Glossip and increased public support for him as a "bullshit PR campaign." Shortly after Tapley and Scott submitted their affidavits in support of Glossip, both men came under renewed legal scrutiny from the Oklahoma City District Attorney's office, according to The Intercept, raising concerns about witness intimidation.
The Supreme Court's precedents place a high threshold on post-conviction innocence claims. In his majority opinion in the 1993 case Herrera v. Collins, Chief Justice William Rehnquist ruled that a death-row inmate must make a "truly persuasive demonstration of actual innocence" to receive relief from the federal courts. Rehnquist cited "the need for finality" in capital cases and the "very disruptive effects" of multiple retrials as justification.
The Herrera ruling stunned Justice Harry Blackmun, who had voted to revive the death penalty in 1976. "Just as an execution without adequate safeguards is unacceptable, so too is an execution when the condemned prisoner can prove that he is innocent," he wrote in dissent. "The execution of a person who can show that he is innocent comes perilously close to simple murder." The following year, citing the Court's decision in Herrera among others, Blackmun renounced the death penalty altogether.