Obama's Trip to an Alaskan Cafe
Editor's Note:
This article previously appeared in a different format as part of The Atlantic's Notes section, retired in 2021.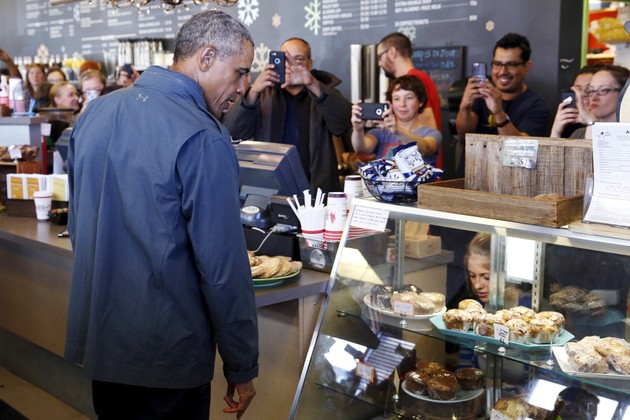 The president seems to be having a productive trip to Alaska this week. He renamed a mountain Monday. He's hiking a glacier this afternoon. And tonight, he's hanging out with Bear Grylls.
The reporters following Obama on this trip have provided some great details about his movements. One dispatch from this afternoon documented the president's trip to the Snow City Cafe, an eatery in Anchorage, where the menu features an item named for Obama: the "Obamalette," which consists of "Barackoli," Spam and cheese.
Obama, dressed in jacket, slacks, and hiking shoes, "didn't appear to order one," according to the pool report. Here's what he did order: "One of those cinnamon rolls. How many of them have you got? I'm gonna take all of those. Why don't we sample some of that walnut bread and muffins? Put a little sampler together. I'm gonna start shaking some hands."
Obama greeted and shook hands with people inside the cafe. "I'm about to go to a glacier," the president said. "What do you guys recommend?"
Obama is the first sitting U.S. president to visit the Arctic. He's in Alaska to promote his administration's climate change policy. Scientists predict that, due to warming global temperatures, the Arctic Ocean will see nearly ice-free summers by 2030.