Kim Davis's Gay Friends
The Kentucky county clerk reveals that she denied marriage licenses to same-sex couples whom she knew.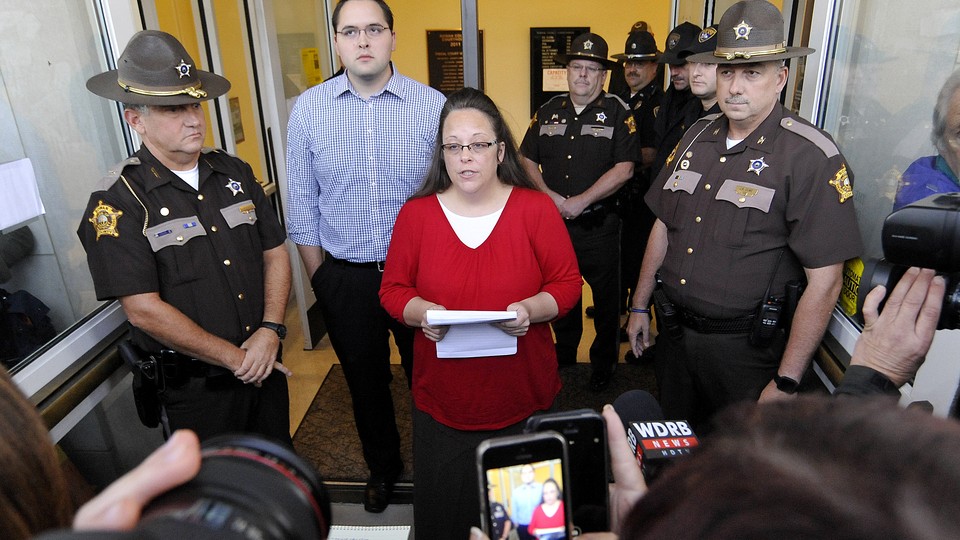 When the U.S. Supreme Court legalized gay marriage nationwide, county clerk Kim Davis stopped giving out marriage licenses—to anyone in Rowan County, Kentucky.
Between late June and early September, Davis refused to grant the documents to both straight and gay couples in the county. Her religious beliefs, she said, kept her from recognizing the kind of union the nation's highest court now did. That included the unions of her gay friends.
"I can't put my name on a license that doesn't represent what God ordained marriage to be," Davis told ABC News's Paula Faris in a new interview. She explained that her friendships could not change her stance on marriage.
Davis returned to her job last week after she refused a federal judge's order to issue marriage licenses and was sent to jail, where she spent five days. Davis has vowed to not interfere with her deputies, who had been granting licenses in her absence. Davis, a Democrat, was first elected county clerk in November.
Davis told ABC News she didn't expect to become so well-known. Supporters sent her fan mail and rallied outside the detention center where she was held. Republican presidential candidates Ted Cruz and Mike Huckabee even traveled to visit her there. When Davis emerged, she walked out onto a stage with her arms raised to the sky as Survivor's "Eye of the Tiger" played.
"I'm just a normal person that has been touched by the grace of God, and his mercy," Davis said. More from the interview:
Davis admits that she hasn't always been a "good" person. She has been married four times and had children in an adulterous relationship, but she doesn't consider herself a hypocrite.

"No, I'm forgiven," she said. "Washed clean."

Davis found God four and a half years ago, she said.

Davis believes that her Christian beliefs trump her day-to-day responsibilities.

"My constituents elected me. But the main authority that rules my life is the Lord," she said.
Marriage licenses issued by Rowan County no longer carry Davis's name. The documents state they are issued "pursuant to a federal court order."