Kim Davis's First Day Back
The Kentucky county clerk returns to her job after her release from jail last week.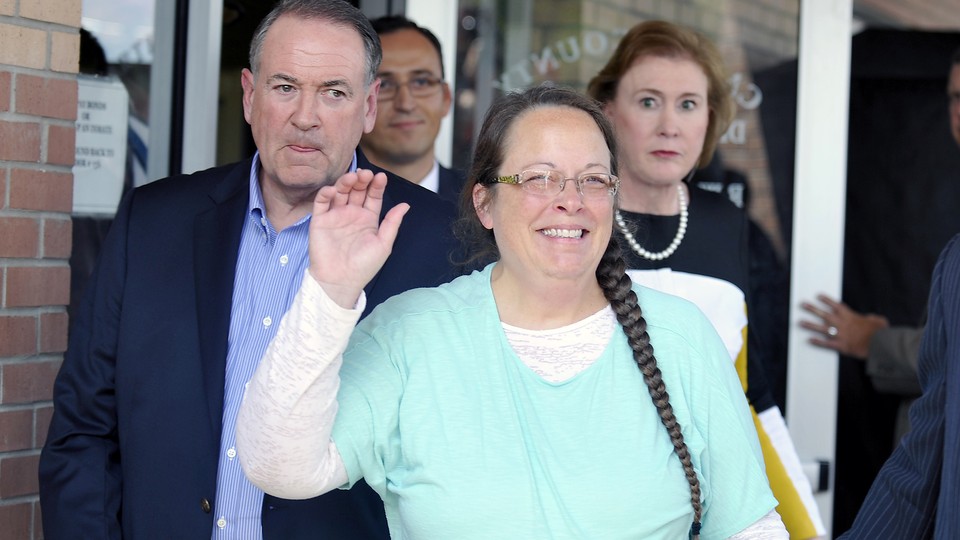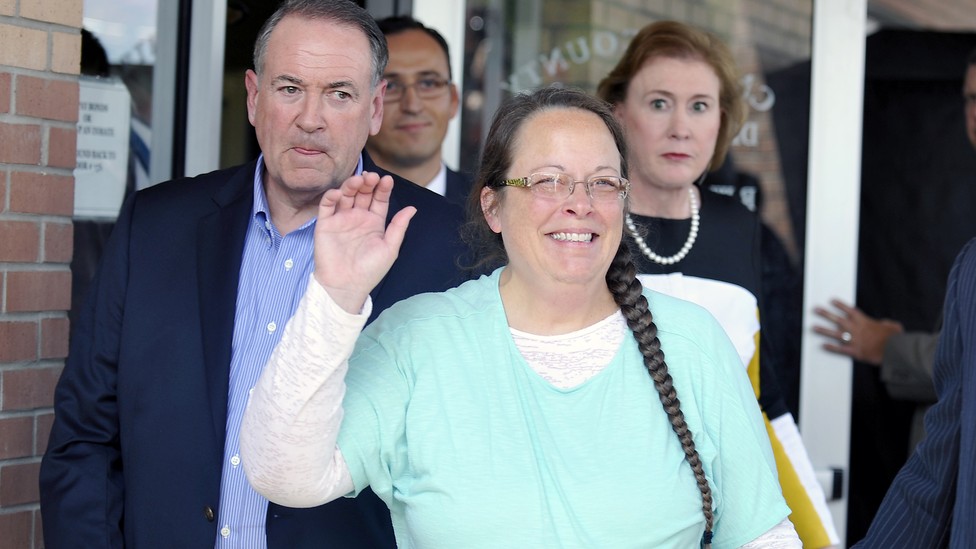 Kim Davis is back in the office, and she hasn't changed her mind.
"Effective immediately, and until an accommodation is provided, by those with the authority to provide it, any marriage license issued by my office will not be issued or authorized by me," she said Monday, NPR reported.
The Kentucky county clerk returned to her job days after she was released from jail. She spent five nights there after refusing to grant marriage licenses to same-sex couples in Rowan County. Davis said Monday she won't stop her deputies from issuing licenses to gay couples. But "any unauthorized license that they issue will not have my name, my title or my authority on it," she said. "Instead, the license will state that they are issued pursuant to a federal court order." The Kentucky attorney general's office said Monday afternoon that such licenses are valid.
Davis had not issued the documents to gay or straight couples since shortly after the Supreme Court decision in June that legalized same-sex marriage, citing her religious beliefs as an Apostolic Christian. In July, four couples, two gay and two straight, sued Davis, saying that she must fulfill her duties as an elected official despite her religious objections. In August, a federal district judge ordered Davis to begin issuing licenses to all legally eligible couples. She continued to turn couples away, however, and was held in contempt of court. Davis was released from jail after her deputy clerks did the paperwork in her absence.
"Davis shall not interfere in any way, directly or indirectly, with the efforts of her deputy clerks to issue marriage licenses to all legally eligible couples," the court order for her release stated.
Brian Mason, a deputy clerk in Rowan County, told Kentucky's CBS affiliate WKYT that the office had issued 10 licenses, seven of which were to same-sex couples, while Davis was in jail. Mason said he would continue to grant licenses, even if Davis tells him not to.
Here's what Davis saw when she came back, per USA Today:
Upon returning to work in Morehead, Davis was greeted by a billboard installed by a non-profit organization that advocates for LGBTQ rights.The billboard erected by Planting Peace reads: "Dear Kim Davis, The fact that you can't sell your daughter for three goats and a cow means we've already redefined marriage."