What's Next for Kim Davis?
The Kentucky county clerk who was jailed over her refusal to grant marriage licenses to same-sex couples has been freed.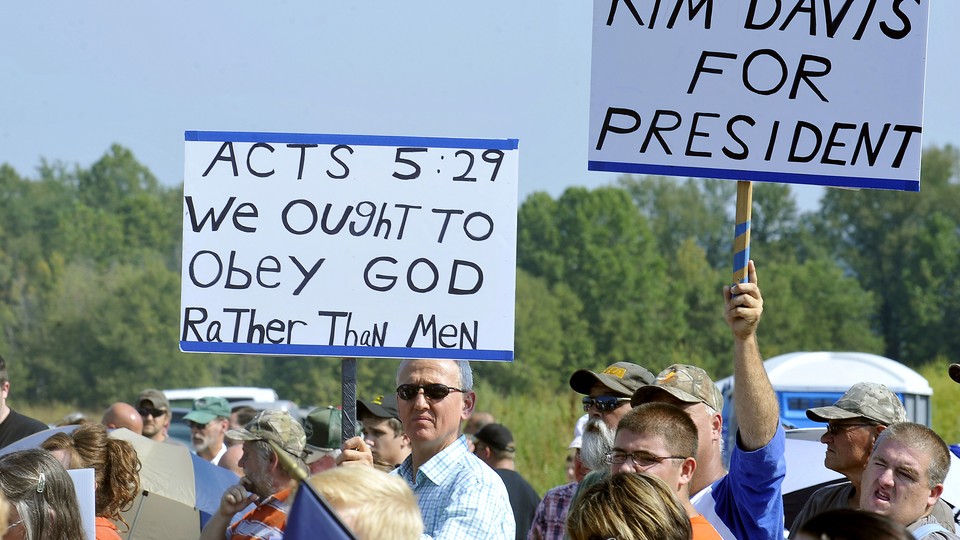 A judge has ordered Kim Davis, the Kentucky county clerk who was jailed last week for refusing to issue marriage licenses to same-sex couples, be released.
U.S. District Judge David Bunning wrote in a two-page order on Tuesday that five of Davis's six deputy clerks in Rowan County have agreed to grant licenses to both gay and straight couples. Their office had not granted licenses since June 29—just days after a Supreme Court ruling made same-sex marriage the law of the land. Since the county is "fulfilling its obligation," the order said, Davis could go free. Davis has said her beliefs as an Apostolic Christian prevented her from recognizing same-sex marriage.
Davis was released from the Carter County Detention Center just after 3 p.m. She will return to her job later this week, CNN reports. But Bunning made clear that she can't get in the way of marriage licenses being issued to all couples.
"Davis shall not interfere in any way, directly or indirectly, with the efforts of her deputy clerks to issue marriage licenses to all legally eligible couples," the order states. "If Defendant Davis should interfere in any way with their issuance, that will be considered a violation of this Order and appropriate sanctions will be considered."
In early July, the American Civil Liberties Union sued Davis and Rowan County. In August, Bunning issued an injunction ordering her to begin issuing licenses to all legally eligible couples. Davis appealed the ruling, but was denied a stay by the 6th U.S. Circuit Court of Appeals and, later, the Supreme Court. She was escorted to jail last Thursday after an order from Bunning.
Davis's, attorney, Roger Gannam, said Tuesday that Davis has "never changed her mind" on this matter, Yahoo News reports.
Before Davis left jail, she met with two of her fans: Republican presidential candidates Mike Huckabee, the former governor of Arkansas, and Ted Cruz, the Texas senator. Huckabee, a Baptist minister, was planning to hold a rally outside the facility in Grayson, Kentucky. He was by Davis's side when she left the facility Tuesday afternoon, and spoke to reporters waiting for her outside.
Davis's supporters gathered outside of the detention center Tuesday afternoon, waving signs backing her. Several local schools closed in anticipation of heavy traffic. The New York Times sets the scene:
Scores of people gathered outside the jail hours before Mr. Huckabee's speech was scheduled to begin. Many people sat in lawn chairs they brought from their homes, while a man used a megaphone to urge people to repent. Streets were crowded as traffic slowed, and one entrepreneur offered parking spaces for $20 each.
Since Davis was jailed, both eligible straight and gay couples in Rowan County have received marriage licenses.