Inventing While Muslim
Fourteen-year-old Ahmed Mohamed wanted to impress his teacher with a homemade clock. Officials mistook it for a bomb and handcuffed him.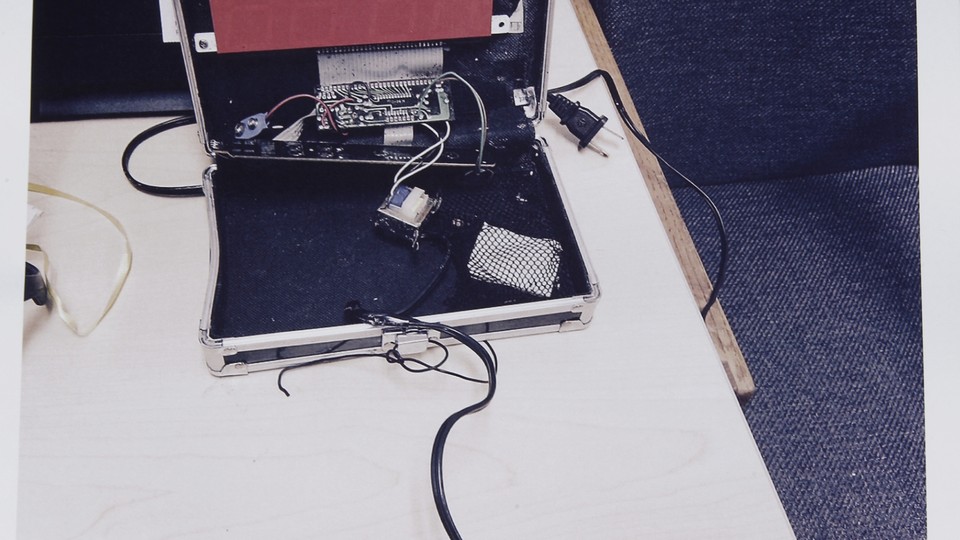 Updated on September 16 at 1:13 p.m. ET
A 14-year-old Texas boy tried to impress his teacher with a homemade clock in the first few weeks of high school. Ahmed Mohamed's invention landed him in handcuffs when officials at his school in Irving thought it resembled a bomb and called police.
Ahmed vowed he will never take an invention to school again—though he may be taking one to the White House.
Here's the background: Ahmed said he took the clock to school on Monday because none of his teachers at MacArthur High "know what I can do." The Dallas Morning News reports that the ninth-grader makes his own radios and repairs his own go-kart.  The newspaper says the door to his bedroom "marks the border where the Mohamed family's cramped but lavishly decorated house begins to look like the back room at RadioShack." Here's more:
Ahmed's clock was hardly his most elaborate creation. He said he threw it together in about 20 minutes before bedtime on Sunday: a circuit board and power supply wired to a digital display, all strapped inside a case with a tiger hologram on the front.

He showed it to his engineering teacher first thing Monday morning and didn't get quite the reaction he'd hoped for.

"He was like, 'That's really nice,'" Ahmed said. "'I would advise you not to show any other teachers.'"
But the clock's alarm went off during English and his teacher complained. Ahmed showed her the invention after class.
"She was like, it looks like a bomb," he told the newspaper. "I told her, 'It doesn't look like a bomb to me.'"
She kept the clock. In the sixth period, the principal and a police officer pulled the 14-year-old out of class. He was taken to another room where he found four other officers waiting. One who sat in the back, he says, said: "Yup. That's who I thought it was."
Ahmed says he felt conscious of the color of his skin and his name. The questions, he says, kept coming.
"They were like, 'So you tried to make a bomb?'" Ahmed told the Morning News.
"I told them no, I was trying to make a clock."
"He said, 'It looks like a movie bomb to me.'"
A police spokesman, James McLellan, told the newspaper that while Ahmed never said the device he built was anything but a clock, officers suspect he wasn't telling them the whole story.
"It could reasonably be mistaken as a device if left in a bathroom or under a car," he said. "The concern was, what was this thing built for? Do we take him into custody?"
Ahmed was led out of the school at 3 p.m., his hands cuffed behind him. He was sent to a juvenile detention center where he was fingerprinted, and then reunited with his parents. The principal suspended him for three days.
"He just wants to invent good things for mankind," said Mohamed Elhassan Mohamed, Ahmed's father, an immigrant from Sudan. "But because his name is Mohamed and because of September 11, I think my son got mistreated."
At a news conference Wednesday, Irving Police Chief Larry Body said Ahmed would not be charged.
"We have no evidence to support that there was an intention to create alarm or cause people to be concerned," he said.
A letter from Dan Cummings, the school principal, to parents said the "Irving Police Department responded to a suspicious-looking item on campus yesterday. We are pleased to report that after the police department's assessment he item discovered at school did not pose a threat to your child's safety."
I recommend using this opportunity to talk with your child about the Student Code of Conduct and specifically not bringing items to school that are prohibited. Also, this is a good time to remind your child how important it is to immediately report any suspicious items and/or suspicious behavior they observe to any school employee so we can address it right away.
The Council on American-Islamic Relations said it was investigating Ahmed's case.
The Guardian adds that this is the second high-profile case involving Islam in Irving, about 15 miles northwest of Dallas. Beth Van Duyne, Irving's mayor, "became something of a national celebrity after she accused Islamic leaders of "bypassing American courts" by offering voluntary Shariah-law mediation to worshippers."
The case has received national attention.
Cool clock, Ahmed. Want to bring it to the White House? We should inspire more kids like you to like science. It's what makes America great.

— President Obama (@POTUS) September 16, 2015