Disasters That Were Foretold
From Katrina to Fukushima, there's a long history of catastrophes that people saw coming, but still didn't stop.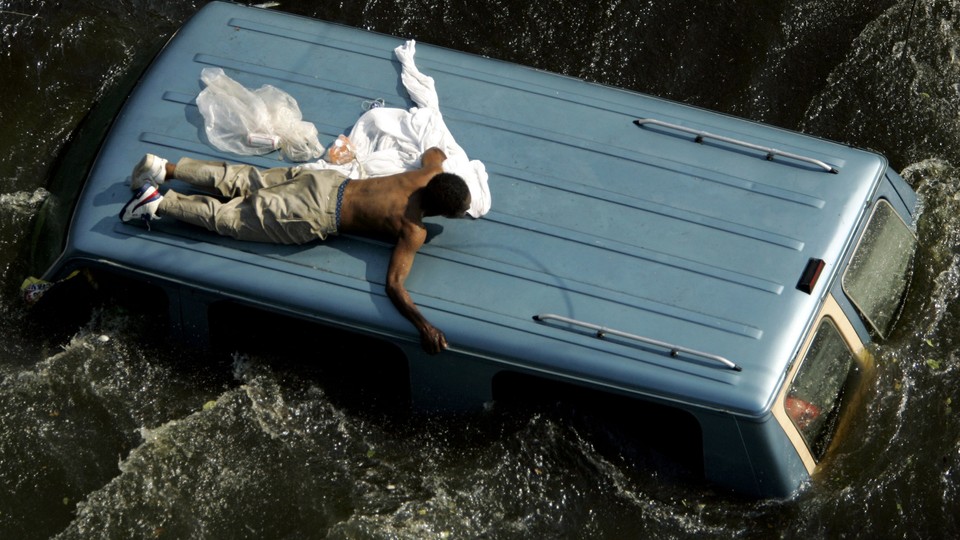 One of the most alarming aspects of Hurricane Katrina's devastation of New Orleans in 2005 was the fact that the city's vulnerabilities had been well-documented and understood.
The city's main newspaper, The Times-Picayune, had devoted several days of coverage to a special series, "Washing Away," just three years before Katrina hit. In the series, reporters said officials were "tempting fate" by failing to address weaknesses in the levees meant to protect New Orleans, and cautioned that it was "only a matter of time before south Louisiana takes a direct hit from a major hurricane."
But this kind of prescience isn't as eerie as it may seem. Identifying a problem and solving it, of course, are not the same thing. They're often separated by time and politics, particularly when a solution requires federal dollars.
"Lurking below the surface of these catastrophic events are often political and economic instabilities, resource constraints, and organizational inefficiencies at global and local levels," wrote James W. Martin in his 2011 book, Unexpected Consequences: Why The Things We Trust Fail.
And so warning signs often go ignored, red flags unheralded. Looking back, it can seem easy to explore how things might have been done differently or better. After all, there's no accounting for a lack of preparedness for the disasters that haven't happened yet—or even, in some cases, the precautions that prevented worse outcomes. But there are plenty of examples of catastrophes that, in retrospect, could been less disastrous if people heeded what they'd known ahead of time.
* * *
1989 San Francisco Earthquake
It could have been much worse. That's still the prevailing narrative, 26 years after the Loma Pietra earthquake, a 7.1 magnitude temblor that shook Northern California in October 1989. The quake—dubbed "the little big one"—coincided with the beginning of Game Three of the World Series, which pitted Oakland against San Francisco. Fortunately, this matchup meant a lot of people in the areas hardest hit by the earthquake were inside watching baseball, ostensibly safer than they would have been if they were on the roads. Yet 63 people died in the earthquake—most of them in the collapse of a 1.25-mile-long section of a double-decked Cypress Freeway. "It was like something out of a Godzilla movie," one firefighter told The San Francisco Chronicle of the scene.
Did officials know the freeway couldn't withstand an earthquake that strong? They certainly knew that an earthquake of that magnitude was a real threat. Or, as The New York Times put it in the aftermath, "If not, should they have known or at least suspected it? And if they did suspect it, why were actions not taken to strengthen the highway or close it down?"
Engineers told the Los Angeles Times that state highway officials had "failed to take adequate steps to strengthen roadway overpasses" after a 1971 earthquake collapsed, killing 58 people in the San Fernando Valley.
---
2007 Minneapolis Bridge Collapse
For nearly two decades before a sudden bridge collapse in Minnesota killed 13 people and injured 145 others in 2007, officials at multiple levels of government knew the I-35 Mississippi River Bridge was "structurally deficient."
"[Y]et they relied on patchwork repairs and stepped-up inspections that unraveled amid a thunderous plunge of concrete and automobiles," USA Today reported at the time. "Obviously," state bridge engineer Dan Dorgan told reporters, "Something went terribly wrong."
Story continues below
---
In Photos: The Disasters That Weren't
---
2008 Cyclone Nargiis
More than 100,000 people were killed in the aftermath of Cyclone Nargiis, which made landfall in a low-lying region of Burma. The storm was considered, "one of those once-in-every-500-years kind of things," as Jeff Masters, the director of meteorology at the website Weather Underground, told the Associated Press. And yet officials in the region were criticized for not doing more to warn the public once it became apparent how bad the storm could be.
"How is it possible that there was such a great death toll in the 21st century, when we have imagery from satellites in real time and there are specialized meteorology centers in all the regions?" Olavo Rasquinho, the U.N. Typhoon Committee Secretariat, said to the AP.
Officials agreed that an improved warning system and better communication from officials about the storm surge would have saved lives, but still couldn't have entirely prevented fatalities. It would have been impossible to evacuate millions of people in time, especially along poor roadways and from remote regions.
---
2010 Hunza River Valley Landslide
Nine months before a massive landslide killed 20 people and destroyed dozens of homes in the Hunza River Valley of northern Pakistan, a humanitarian aid group warned local officials about the growing risk of landslides in the region.
"Much of the losses and damages, if not avoided, could have been reduced had the government promptly responded and got mountain communities and their cattle evacuated to safer grounds," Salmanuddin Shah, a disaster management specialist at Focus Humanitarian Assistance, told Reuters.
Shah and other experts said the landslide marked one of several disasters in the region that took place after officials had received warnings but "failed to act."
---
2011 Fukushima Meltdown
The mega-earthquake triggered a catastrophic tsunami in Japan in 2011 that killed 15,891 people. It also set off a disaster at the Fukushima Daiichi Nuclear Power Plant, where three reactors melted down, forcing the evacuation of hundreds of thousands of residents within a 12-mile radius of the complex. Four years later, tens of thousands of people are still unable to return to their homes.
Investigations into what happened at the power plant concluded that the nuclear disaster could have been prevented. Not only were aspects of the plant's designs not up to standards outlined by international best practices, but investigators concluded that officials had focused on the threat of seismic activity without fully appreciating how a resultant tsunami might affect the plant. The authors of a report about the incident by the Carnegie Endowment for International Peace concluded: "Bureaucratic and professional stovepiping made nuclear officials unwilling to take advice from experts outside of the field. Those nuclear professionals also may have failed to effectively utilize local knowledge. And, perhaps most importantly, many believed that a severe accident was simply impossible."
This was not mere ignorance, though. Several reports say officials must have been aware of the threat a tsunami posed in the region. Japan is an island nation that butts up against the Ring of Fire, one of Earth's most explosive and volatile regions. The threat of tsunamis and earthquakes is part of life there. The New York Times reported that regulators "had for years ignored warnings of the possibility of a larger-than-expected tsunami in northeastern Japan."
* * *
Better preparedness for future disasters requires political leadership, better engineering, and more funding than is ever available—and not just that. In the face of all kinds of disasters, people often fail to act quickly enough or at all. They ignore mandatory evacuation notices and other dire warnings—sometimes because they don't take threats seriously, but often when they don't want to leave personal property behind. Humans may be, Martin suggests in his book, hardwired to feel safe even when they're not.
Cognitive issues also affect isolated technical failures because they influence activities related to design, production, distribution, and use of products and services. As an example, cognitive dissonance will cause people to resort to clever ways to reduce dissonance. They will resort to lying and misleading others to maintain feelings of comfort. They even lie to themselves consciously or unconsciously by filtering information or selectively recalling memories.
How do we know which disaster threats are real, anyway? It's one thing to take a threat seriously when an alarm is sounding, but the prospect of real but unlikely scenarios—an "ultimate tsunami" off the coast of Honolulu or an earthquake that could snap a chunk off the West Coast—the emotional burden of acknowledging risks can be unnecessarily heavy. Besides, there's a reason the old cliche that you're more likely to be killed during the drive to the airport than during the airplane flight has held up: It's comforting to those who fear flying, but it's also true.
All this still means organizational structures and cultural influences are only part of preparing for the worst. There's also a question of understanding what's at stake—not just public safety but personal accountability. "There is a general lack of accountability that is common to catastrophic events," Martin wrote. "Few people are jailed, punished, or forced to make restitution for errors and mistakes. In fact, the larger the damage, the less likely people are held individually responsible."
Even the disasters we see coming are not always possible to avoid.
---
Isabel Martel Francisco contributed reporting. This project was made possible with support from the W.K. Kellogg Foundation.