Getting the Band Back Together, Marketplace Edition
Editor's Note:
This article previously appeared in a different format as part of The Atlantic's Notes section, retired in 2021.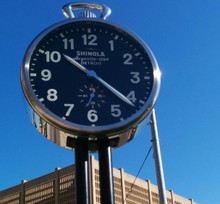 Over the past two years my wife Deb and I have done a number of reports in partnership with Kai Ryssdal and the gang at Marketplace radio, for our ongoing American Futures series. Last week all of us were in Detroit — Deb and I for the Techonomy Detroit conference, the Marketplace team for some reporting (including at the downtown Shinola building).
This evening's Marketplace broadcast has exchange with Kai, Deb, and me recorded in the Shinola parking lot. (As he put it, the sirens, taxi horns, and truck noises are part of the ambient-noise naturalistic school of broadcasting.) We're glad to be back in harness with the team from LA and hope you enjoy this show