The Freddie Gray Pre-Trial Begins
Editor's Note:
This article previously appeared in a different format as part of The Atlantic's Notes section, retired in 2021.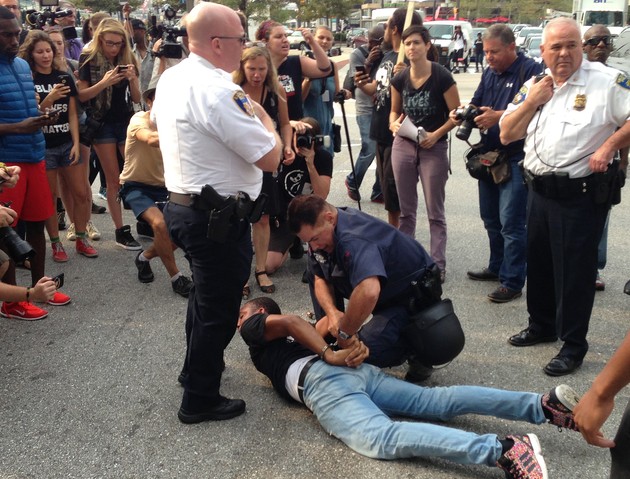 Baltimore has found itself the focus of media attention once again as the first hearing for six officers charged with the death of Freddie Gray—who was killed in police custody in April—began Wednesday morning.
Baltimore City Court Judge Barry Glenn Williams denied two significant motions for the pre-trial hearings: one to recuse State's Attorney Marilyn Mosby for what the police officers' attorneys call her alleged conflict of interest, and another to dismiss the case on prosecutorial misconduct.
The officers' lawyers say that Billy Murphy, the attorney representing the Gray family, donated $4,000 to Mosby's 2013 campaign for state attorney and eventually worked on her team as she set up her office. They also questioned her decision to charge the officers as an attempt to politically benefit her husband, Councilman Nick Mosby, whose district saw riots following Gray's death.
Mosby's office has called the claims "absurd" and an attempt to influence media coverage and the potential jury pool.
The cops' lawyers are pushing to charge the six officers separately by charging two officers—Lt. Brian Rice and Officer William Porter—in one trial and four officers—Goodson, Miller, Nero, and White—tried in another trial together.
Nearly 100 protesters were at Wednesday's hearing outside the Clarence M. Mitchell Jr. Courthouse in downtown Baltimore, and police have made one arrest. After Gray's death in April, widespread protests—including the looting and burning of a CVS building—prompted Mayor Stephanie Rawlings-Blake to impose a citywide curfew for Baltimore residents and Gov. Larry Hogan to call in the National Guard.