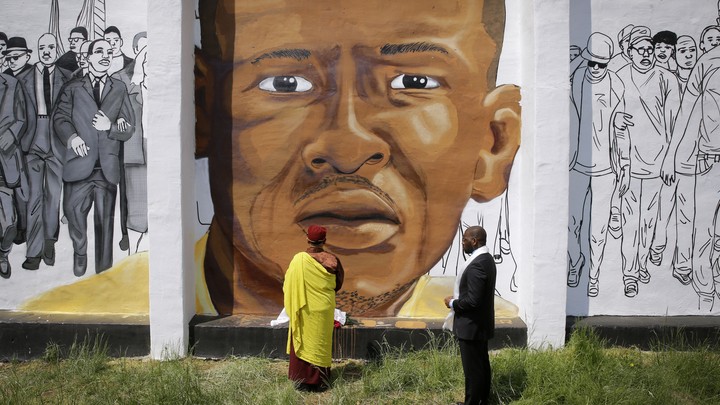 The criminal trials of six officers implicated in the death of Freddie Gray haven't come close to beginning, but the city of Baltimore has already agreed to pay Gray's family $6.4 million to settle any civil claims in his death.
In April, the 25-year-old black man was fatally injured in police custody—after Gray was arrested under questionable circumstances, his spinal cord was severed as he rode in a police van, and he died a week later. It's not unusual for a civil settlement to come separately from criminal trials, and Baltimore Mayor Stephanie Rawlings-Blake, whose office announced the agreement, said in a statement that the settlement aimed to avoid litigation that would be lengthy and painful for both the Gray family and the city, where longstanding racial tensions with the police were dramatically exposed in the days after Gray's death.
"The proposed settlement agreement going before the Board of Estimates should not be interpreted as a judgment on the guilt or innocence of the officers facing trial," Rawlings-Blake said. "This settlement is being proposed solely because it is in the best interest of the city, and avoids costly and protracted litigation that would only make it more difficult for our city to heal and potentially cost taxpayers many millions more in damages."
The Baltimore Sun calls the payout "extraordinary," noting that it is "larger than the total of the more than 120 other lawsuits brought against the police department for alleged brutality and misconduct since 2011."
But it is only the scale that is remarkable. Baltimore taxpayers have repeatedly been forced to cover the cost of their police department's unwarranted violence against civilians. The city paid $5.7 million in brutality settlements over that period. As my colleague Conor Friedersdorf remarked in April,
as huge as that figure is, the more staggering number in the article is this one: "Over the past four years, more than 100 people have won court judgments or settlements related to allegations of brutality and civil-rights violations." What tiny percentage of the unjustly beaten win formal legal judgments?
The settlement shouldn't have much bearing on the outcome of the criminal case. Even setting aside Rawlings-Blake's caution that there was no admission of guilt, the settlement would almost certainly be inadmissible in the trial, David Jaros, an associate professor at the University of Baltimore School of Law, noted in an email.
Hearings over that case are ongoing. Last week, a judge rejected a request by defense attorneys to have State's Attorney Marilyn Mosby removed from the case, but he granted them a request to have the six officers tried separately, rather than in a pair and a group of four, as Mosby had intended. This Thursday, a hearing will be held on a defense request to move the trial from Baltimore, where the officers' lawyers say their clients can't get a fair hearing. Jaros said defense lawyers could conceivably argue in that hearing that the news of the civil settlement would further affect the jury pool.
The Gray family's attorney has not commented on the settlement.
The size of the settlement reflects both the horror of Gray's death and the magnitude of the problem for the city. No settlement can make a family whole after a death, but Gray's own life provides a cautionary tale about the intersection between entrenched poverty and payouts, as The Washington Post's Terrence McCoy has demonstrated in detail. Gray was a victim of lead poisoning, a widespread problem in aging, poorly maintained buildings in poor neighborhoods in Baltimore. Lead is strongly connected to development and educational struggles and higher crime rates. Gray and his family received hundreds of thousands of dollars in a settlement. But financing companies scouted and convinced Gray and many other victims—some of whom are almost illiterate—to sell their stakes in exchange for an immediate but much smaller infusion of cash. "They sucker you in . . . They didn't know they were giving up so much for so little," Gray's stepfather told the Post. In an environment of desperate  poverty, huge infusions of cash can't always offer stability.
We want to hear what you think about this article. Submit a letter to the editor or write to letters@theatlantic.com.