Editor's Note:
This article previously appeared in a different format as part of The Atlantic's Notes section, retired in 2021.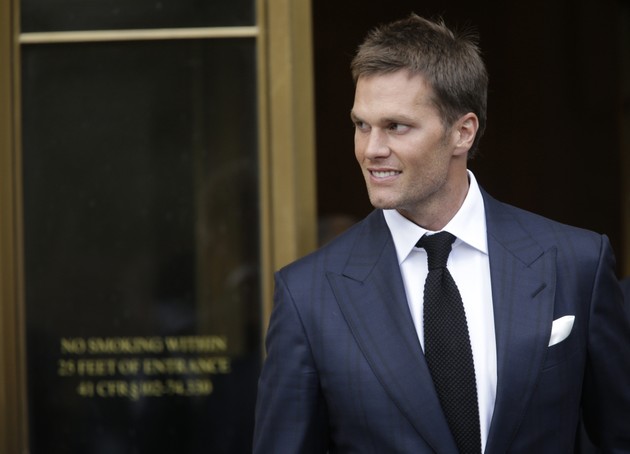 Updated on September 3 at 12:37 p.m. ET
A federal judge has nullified a four-game suspension the NFL handed Tom Brady, the New England Patriots quarterback, in the "deflategate" scandal.
The suspension stemmed from the alleged use of under-inflated footballs in the AFC Championship game in January between the Patriots and the Indianapolis Colts. In a statement, NFL Commissioner Roger Goodell said the league would appeal.
In his ruling today, U.S. District Judge Richard M. Berman said Brady's suspension had been "premised upon several significant legal deficiencies."
And, he wrote, the Patriots quarterback was given inadequate notice of discipline and misconduct.
The Court finds that Brady had no notice that he could receive a four-game suspension for general awareness of ball deflation by others or participation in any scheme to deflate footballs, and non-cooperation with the ensuing Investigation. Brady also had no notice that his discipline would be the equivalent of the discipline imposed upon a player who used performance enhancing drugs.
Today's ruling means Brady will likely play in the Patriots' opening game on September 10 against the Pittsburgh Steelers. But Goodell said the league would appeal the judge's decision.
We are grateful to Judge Berman for hearing this matter, but respectfully disagree with today's decision. We will appeal today's ruling in order to uphold the collectively bargained responsibility to protect the integrity of the game. The commissioner's responsibility to secure the competitive fairness of our game is a paramount principle, and the league and our 32 clubs will continue to pursue a path to that end. While the legal phase of this process continues, we look forward to focusing on football and the opening of the regular season.
Here's the legal background to the story via The Associated Press:
The league brought the scandal to Berman's Manhattan courtroom immediately once Goodell upheld Brady's four-game suspension, blasting the quarterback for arranging the destruction of his cellphone and its nearly 10,000 messages just before he was interviewed for the NFL probe. The union countersued, said Brady did nothing wrong and asked the judge to nullify the suspension.

While the league investigation found it was "more probable than not" that two Patriots ball handling employees deliberately released air from Patriots game balls at January's 45-7 New England victory over the Indianapolis Colts, it cited no direct evidence that Brady knew about or authorized it.

Goodell, though, went beyond the initial investigation report, finding in late July as a result of testimony from Brady and others that the quarterback conspired with the ball handlers and tried to obstruct the league's probe, including by destroying his cellphone.