Chicago's Problem With Gun Violence
More than 50 people were shot over the weekend, adding to the city's record number of shootings this year.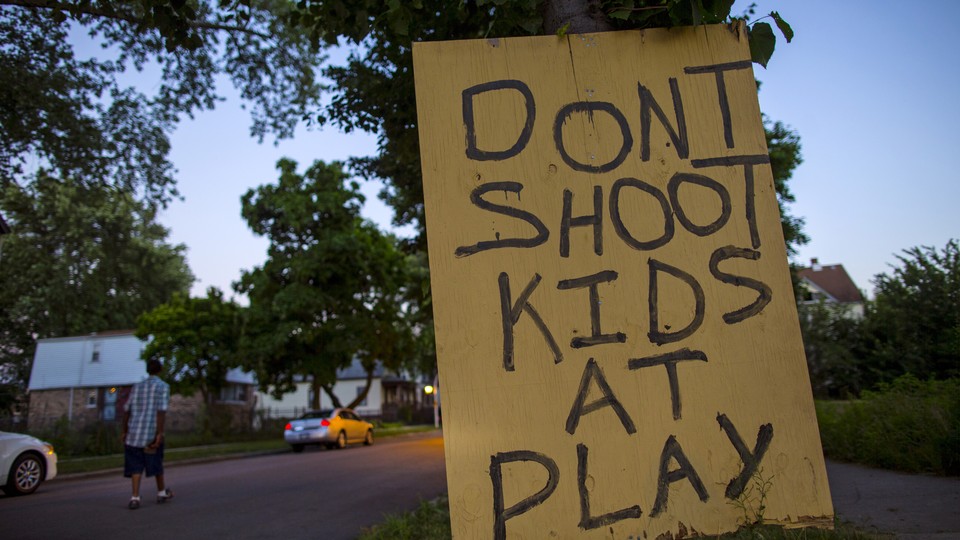 Over the weekend in Chicago, the Cubs clinched their first playoff berth since 2008 despite losing three straight games. The University of Chicago prepared to host a campaign event for Bernie Sanders, who attended the school in the 1960s. And for the second straight weekend, more than 50 people were shot in the city. The Chicago Tribune reports:
The toll included four men killed and at least 53 people wounded between Friday evening and early Monday morning, according to police.  Last weekend, nine people were killed and at least 45 were wounded.
The violence, which has become bleakly commonplace, didn't end Monday. The city has endured 2,300 shootings so far this year—an average of more than eight per day and 400 more shootings than at this point last year. And, America's third-largest city continues to contend with a 21 percent increase in homicides. On Monday evening, an 11-month-old boy was wounded in a south-side shooting that also killed his pregnant mother and his grandmother.
"In a second, two generations of that child's family were wiped out,"  Eugene Roy, a Chicago deputy chief of detectives, told reporters. (A total of six people have been killed and eight others have been wounded since Monday morning.)
The violence is widely seen to stem from a deadly combination of gangs and illegal guns. Responding to Monday's shootings, Mayor Rahm Emanuel squared his focus on gangs.
"Wherever you live, you should be able to get out of your car and go to your home. … it's time that our criminal justice system and the laws as it relates to access to guns and the penalties for using 'em reflect the values of the people of the city of Chicago," he said.
In June, Police Superintendent Garry McCarthy told PBS that police have confiscated more illegal guns in Chicago than Los Angeles and New York City combined in the first half of the year. Drug trafficking is also a major factor, with as much as 80 percent of illegal drugs in the city estimated to come from Joaquin "El Chapo" Guzman's Sinaloa cartel.
Indeed, f
ollowing each of his escapes from prison,
Guzman was given the title of "Public Enemy No. 1" in Chicago. He remains the first person to be given that designation since Al Capone in 1930.