Get Ready for Oktoberfest With an Interactive Map of Beer
Editor's Note:
This article previously appeared in a different format as part of The Atlantic's Notes section, retired in 2021.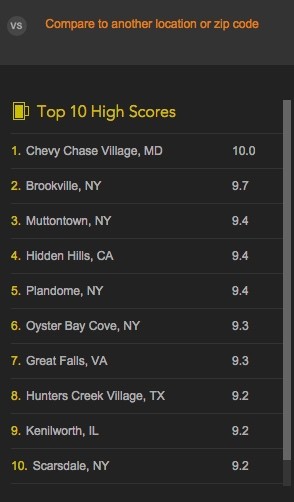 Two days ago I mentioned an interactive Esri map that dramatized the scale of the world's current refugee crisis.
Here is a very different one: it is an interactive city-by-city depiction of how much money people spend on beer. It even has a way to do side-by-comparisons of two cities or specific zip codes, showing their beer metrics and some others too (including overall income level). Its list of the top 10 beer-spending neighborhoods or cities is at right.
There are some apparent anomalies in the comparisons. For instance, Salt Lake City, Utah, home of the Latter Day Saints, is far ahead of St. Louis, home of Anheuser-Busch. Loma Linda, California, with a concentration of Seventh-day Adventists, is far ahead of Milwaukee, once styled as the "beer capital of the world." This must have to do with technicalities in the ranking systems, and perhaps the way gentrifying downtowns are captured in one city's rankings and declining downtowns in another's. So, it's not hyper-scientific, but it is interesting. As with most maps, the fun comes in the prowling around. You can check it out below or see a full-screen version here.
You start by typing in a city name or zip code in the box at the upper left. It becomes self-explanatory after that.
The Washington D.C. area in general is very high in the beer-spending ranks, and my particular home neighborhood is very high. Unfortunately I think I know one reason.