Another NYPD Unforced Error
James Blake, the former tennis star, was mistakenly tackled and detained by cops while on his way to the U.S. Open.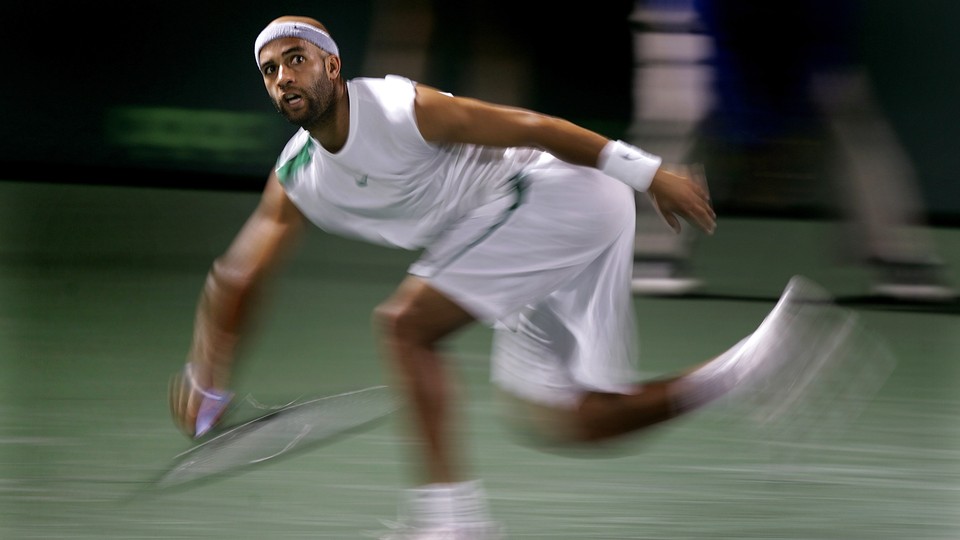 On Wednesday afternoon, James Blake was on his way to the U.S. Open when police misidentified the black former tennis star and one-time No. 4 player in the world for a suspect in an identity-theft case. From The New York Daily News:
Blake said he had just answered a few questions from a writer for a tennis magazine and was texting when he looked up and saw someone in shorts and a T-shirt charging at him, splitting the doorman outside the Hyatt, an official hotel for the U.S. Tennis Association.
According to the report, the 35-year-old Blake was "slammed to the ground," handcuffed, and detained. Eventually, he was released and the police (although apparently not the officer who tackled him) apologized. The retired star suffered cuts and bruises in the incident.
Episodes that involve police, race, mistaken identity, and likely excessive force tend not to draw much attention. However, the broad-daylight tackling of a black Harvard-educated former star athlete in midtown Manhattan is a bit different. Blake, who also runs two charities, acknowledged that.
"I have resources to get to the bottom of this. I have a voice," he said. "But what about someone who doesn't have those resources and doesn't have a voice?"
The NYPD eventually released a statement about the incident:
Today James Blake was detained by police in midtown Manhattan in regards to an ongoing investigation into fraudulently purchased cell phones, after being misidentified by a cooperating witness. Once Blake was properly identified and found to have no connection to the investigation, he was released from police custody immediately. In regards to the alleged improper use of force, the Police Commissioner directed the internal affairs bureau to investigate.