A Deadly Flash Flood in Utah
The flooding washed away two vehicles, and officials say at least eight people are dead and five missing.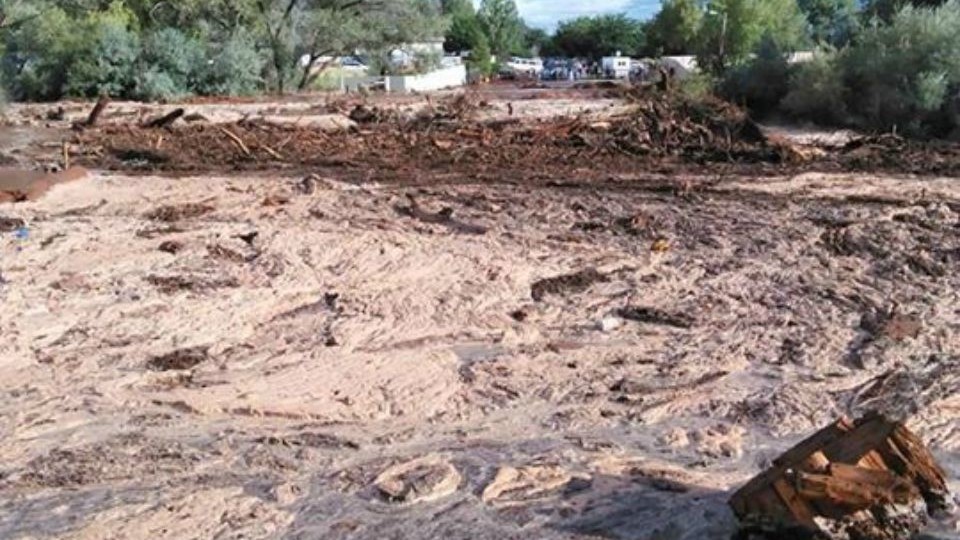 At least eight people are dead and five missing when the two vehicles they were traveling in were washed away by a flash flood caused by heavy thunderstorms in a town on the Utah-Arizona border that serves as a base for Warren Jeffs, the leader of a polygamous sect.
The Salt Lake Tribune
reported
that seven people died and six were missing in Hildale on Monday. But the Utah Division of Emergency Management later said
in a Facebook post
that an additional victim had been located, bringing the total number of confirmed fatalities to eight. The two vehicles—an SUV and a van—were carrying a total of 16 people. Three people survived.
Hildale assistant fire chief Kevin Barlow
told
The Associated Press the flood "obviously caught these people off guard."
"Witnesses say they were backing out of it, trying to get away from it, and it still swept them in," he told the AP.
The news agency adds:
The floods came after heavy rains fell in the canyons just north of the towns, sending waves of water barreling through the streets. The towns sit at the foot of picturesque red rock cliffs about 315 miles south of Salt Lake City.

The women and children were in an SUV and a van on a gravel road north of the towns, Barlow said. It appears they were coming back from a park in the area when the flash flood hit, he said.
Scattered rain and thunderstorms are expected in the area Tuesday.
The Salt Lake Tribune has some background on Hildale, Utah, and its sister city, Colorado City, Arizona.
Hildale and Colorado City are collectively known as Short Creek. They are home to the Fundamentalist Church of Jesus Christ of Latter-Day Saints, which practices polygamy. Employees of the towns' governments and public safety services over the years have been loyal to the church, though the sheriff offices on both sides of the state line often lead search and rescue efforts.