Women, History, and the Army Ranger School
This Friday, two female soldiers will graduate from the elite program.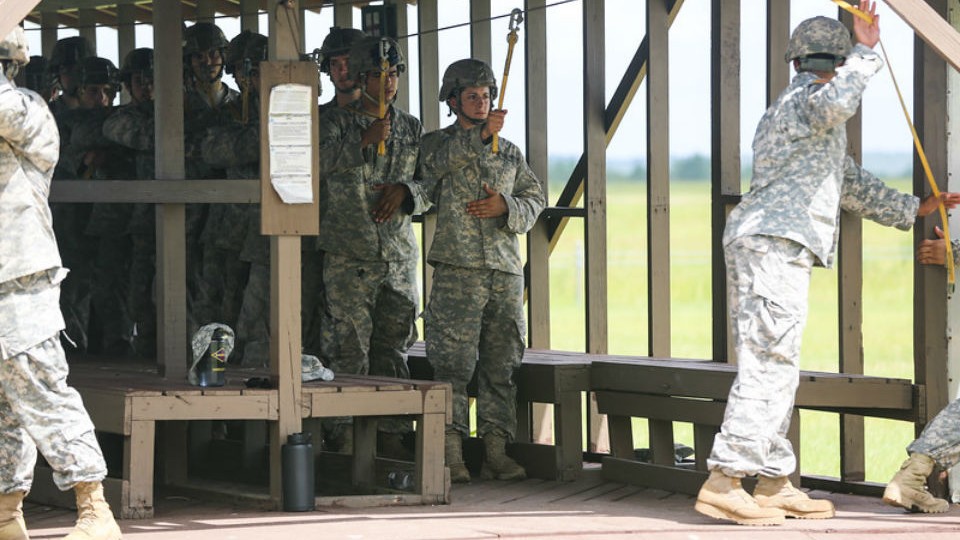 Updated on August 18, 2015, at 11:34 a.m. ET
This Friday, two female soldiers will make history when they become the first women to graduate from the Army Ranger School.
The 61-day training program is grueling, and the two women will graduate with 94 men at Fort Benning, Georgia. Here's what they had to go through:
During the course, students learn how to operate in three different environments: woodlands in Fort Benning, mountainous terrain in Dahlonega, Georgia, and coastal swamp in Eglin Air Force Base, Florida. Highlights of the course include a physical fitness test consisting of 49 push-ups, 59 sit-ups, a five-mile run in 40 minutes, and six chin-ups; a swim test; a land navigation test; a 12-mile foot march in three hours; several obstacle courses; four days of military mountaineering; three parachute jumps; four air assaults on helicopters; multiple rubber boat movements; and 27 days of mock combat patrols.
In a statement Monday, Army Secretary John McHugh said:
Each Ranger School graduate has shown the physical and mental toughness to successfully lead organizations at any level. This course has proven that every Soldier, regardless of gender, can achieve his or her full potential. We owe soldiers the opportunity to serve successfully in any position where they are qualified and capable, and we continue to look for ways to select, train, and retain the best Soldiers to meet our nation's needs.
Former Defense Secretary Leon Panetta, who lifted the ban on women in ground combat roles in January 2013, told Foreign Policy the development was "proof that if we open up these opportunities to women that there are qualified women that can be able to engage in combat."
"I always believed that, without having to change the qualifications, that there were women who could live up to the same standards that we required of others to be able to become Rangers and to be part of Special Forces," he told the magazine.
But the two female soldiers cannot apply to join the 75th Ranger Regiment, the elite special-operations force, because the unit remains closed to women, and has its own requirements.
Here's more about the two, from The Washington Post:
The women have not been identified by the Army, but both are officers in their 20s and graduates of the U.S. Military Academy at West Point, N.Y., Army officials said. The female graduates started Ranger School on April 20 alongside 380 men and 17 other female soldiers in the first class to ever include women. The female soldiers were allowed into Ranger School as part of the Army's ongoing assessment of how to better integrate women.
The issue of women in combat roles has been controversial. There was much skepticism over whether standards were being lowered to allow the women to graduate.
But Sgt. Major Colin Boley, the operations sergeant major for the Airborne and Ranger Training Brigade, told Foreign Policy, the women "have changed my mind."
"I didn't think that they would physically be able to bear the weight and I thought they would quit or get hurt, and they have proved me wrong," he said.