The West's Wildfire Season Gets Worse
Over 7 million acres have burned so far during one of the worst droughts in decades.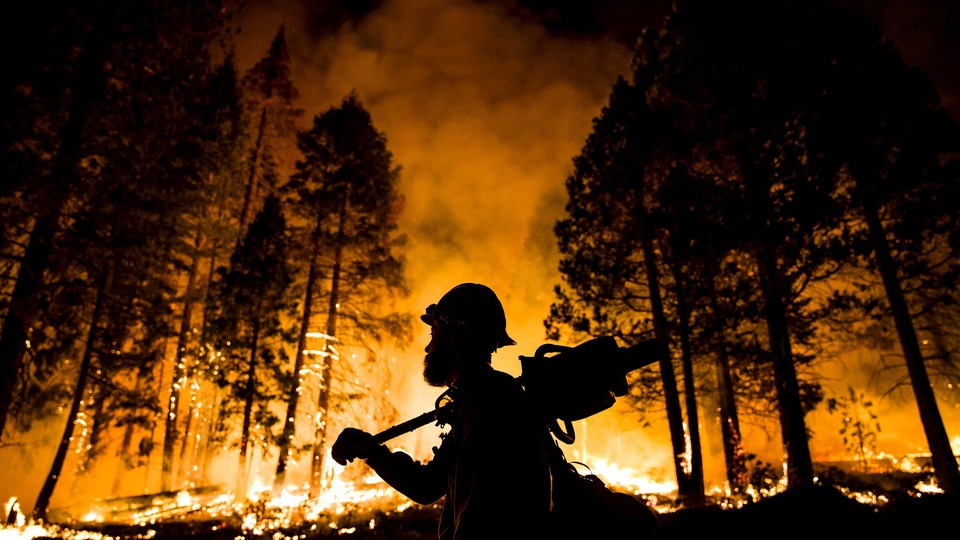 A historic wildfire season in the Western United States and Canada claimed more victims last week. Three firefighters battling the Twisp Fire in central Washington State died Wednesday after their vehicle crashed and was overtaken by the flames, NBC News reported. Four other firefighters were also injured.
The three firefighters' deaths marked a dangerous week for fire crews battling blazes throughout the West. Over 7.2 million acres have burned this year, according to the federal National Interagency Fire Center, with 1.3 million of those acres actively burning on Thursday. In the Pacific Northwest alone, wildfires grew from 85,000 acres to 625,000 acres in only a week. Canadian firefighters also struggled with blazes this summer, with over 690,000 acres burned in British Columbia as of August 4, according to the Globe and Mail.
Fire season is a difficult time for Western states in any year, but the dire lack of rainfall in recent years has exacerbated the current threat. Most news outlets refer to the crisis as "the California drought." In fact, the drought exists in some form across the entire Western United States:
One hundred percent of the state of Nevada is in drought — with 40 percent in the extreme drought category. Over to the southeast, 93 percent of Arizona's territory is in some form of drought. Even Washington state, far to the north, finds all of its territory in drought and 32 percent of its land in extreme doubt.
Although some media outlets have focused on almonds, a much larger contributor to warming temperatures and drying landscapes is climate change. A study published in Geophysical Research Letters on Thursday estimated that climate change's effects exacerbated the Western drought by an additional 15 to 20 percent. That same day, NOAA announced that July 2015 was the hottest month since recordkeeping began in January 1880. As climate change continues to worsen, longer and more intense droughts are likely.
Wildfires can occur year round, but they flourish in dry, hot conditions like those caused by the drought. In April, the Lake Tahoe basin, which straddles the California-Nevada border, recorded only 3 percent of its typical annual snowpack, according to the Reno Gazette-Journal. Snowpack is the primary source of water for mountainous areas throughout the year; its absence has serious ecological repercussions. An aerial survey earlier this month in one part of the Sierra Nevada foothills found almost 6.3 million trees—about 20 to 30 percent of those surveyed—were dead or dying. As snowpack dwindles and temperatures rise, wildfires move into even higher elevations that rarely burned in previous fire seasons.
With so many wildfires burning across the West, state and federal resources are stretched thin. In Washington, 200 soldiers from Joint Base Lewis-McChord outside Seattle have been activated to assist local crews. New Zealand and Australia also deployed a 70-person team to assist. California augments its 4,000 full-time firefighting personnel with 6,000 inmates from state prisons.
Another hurdle faced by the U.S. Forest Service is cost. In 1995, the agency said, about 16 percent of its budget went to fire-related costs. Now, it occupies about 52 percent of the budget, and is projected to consume two-thirds of the budget by 2025. Because federal wildfire spending comes from agency budgets, active fire seasons can deplete resources for wildfire prevention. Earlier in August, a group of Western lawmakers proposed legislation that would allow firefighting agencies to draw from natural-disaster funds instead.