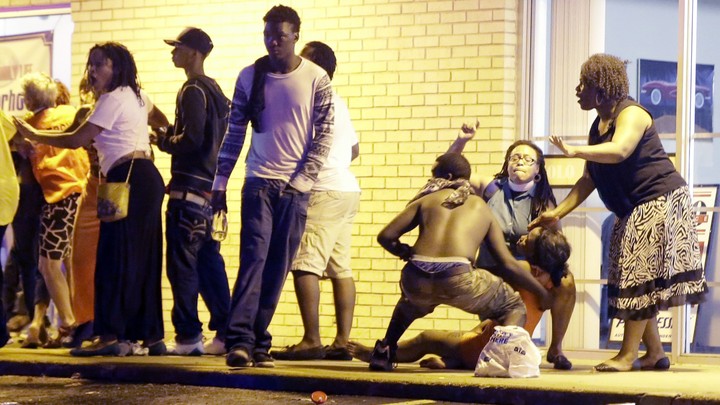 Updated on August 10, 2015, at 4:33 p.m. ET
Police in St. Louis arrested more than 50 protesters who were demanding the dissolution of the police department in Ferguson, Missouri. Among those detained at rallies to commemorate a year since the death of Michael Brown were prominent members of the Black Lives Matter movement.
The Washington Post reported that Deray Mckesson, Johnetta Elzie,  Kayla Reed and Cornel West were arrested Monday outside the St. Louis Justice Center. Some 150 activists had staged a sit-in at the location to mark the anniversary of Brown's death, and some of them, St. Louis Post-Dispatch reports, climbed over barricades set up outside the building, "sat down, locked arms and began singing and chanting." The newspaper adds:
When that protesters' move did not produce any arrests after about 20 minutes, the seated group rose and rushed toward the front door of the courthouse, and sat down again. Shortly after that, about 30 members of the St. Louis Police Department arrived on the scene and arrests began.
The arrests came after the St. Louis County executive issued a state of emergency following Sunday night's unrest in which police shot and wounded a man who they say fired at them in Ferguson. The violence followed peaceful rallies to mark the first anniversary of the killing of Brown, the unarmed black 18-year-old who was shot dead by a police officer.
"In light of last night's violence and unrest in the City of Ferguson, and the potential for harm to persons and property, I am exercising my authority as county executive to issue a state of emergency, effective immediately," County Executive Steve Stenger said in a statement.
He said the St. Louis County Police Department will take over the operation of police emergency management in Ferguson and surrounding areas.
St. Louis County Police Chief Jon Belmar said in a news conference early Monday the man who was shot was not part of the rallies to mark Brown's death. He said two opposing groups began firing at each other at the intersection of Ferguson Avenue and West Florissant Avenue at about 11:10 p.m. local time.
Belmar said plainclothes officers pursued one of the men, who then fired at them. They returned fire, hitting him. Belmar described the man's condition as "critical [and] … unstable."
Attorney General Loretta Lynch condemned the unrest.
"Violence obscures any message of peaceful protest and places the community, as well as the officers who seek to protect it, in harm's way," she said in a statement.
The intersection of Ferguson and West Florissant avenues, where the gunfire erupted, was the scene of the sometimes-violent protests last summer after Brown's shooting by Officer Darren Wilson on  August 9, 2014.
Rallies on Sunday to mark the first anniversary of Brown's death were peaceful. The Atlantic's Conor Friedersdorf notes the developments since Brown's killing:
"Officer Darren Wilson may not have acted unlawfully when he shot and killed Michael Brown, an unarmed black teenager, during a murky physical altercation. But the same Department of Justice that cleared him of criminal wrongdoing has documented years of egregiously abusive policing in the St. Louis suburbs. Nevertheless, Missouri legislators failed last session to pass the vast majority of reform measures meant to fix the state's glaringly oppressive criminal justice system. Nationwide, The Washington Post finds that police have killed at least 60 unarmed humans this year—and that blacks, who make up just 6 percent of the population, account for a full 40 percent of those killed despite being unarmed. In recent months, moreover, the public has seen graphic video footage of at least two cops, in separate incidents, committing what separate prosecutors characterize as the murders of black men during traffic stops, then apparently lying about their actions."
We want to hear what you think about this article. Submit a letter to the editor or write to letters@theatlantic.com.