The Long Journey to Rural Alaska
Editor's Note:
This article previously appeared in a different format as part of The Atlantic's Notes section, retired in 2021.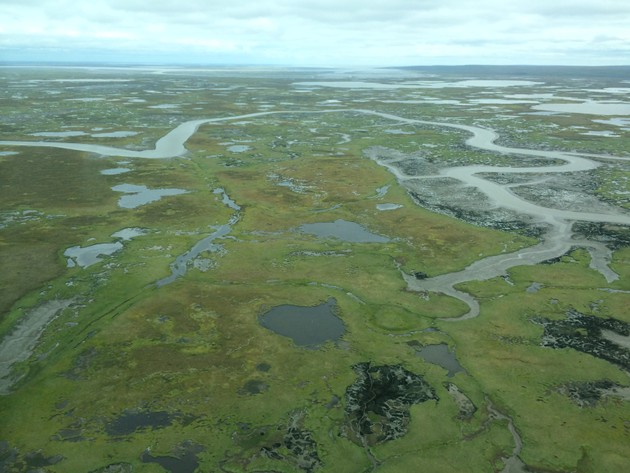 Obama will become the first sitting U.S. president to visit Arctic Alaska this week when he travels there to talk about climate change. I don't envy him the journey. He's going to appear on an episode of "Running Wild With Bear Grylls" and learn about wilderness survival, but he might have to 'rough it' most if he visits some of Alaska's small villages.
Earlier this month I traveled to Newtok, Alaska, one of the four villages he mentioned in his Saturday radio address as being in "imminent danger" and needing to relocate because of climate change. Newtok, like many Native Alaskan villages, is not accessible by roads, has no running water or sewage pipes, and has no hotels.
To get to Newtok from Anchorage, I flew to the regional hub of Bethel on a small airline called Ravn Air. The airline is so small that at no point did I need to go through security to board the plane. I simply walked in from the Anchorage airport, to a waiting room shared by the airline that serves BP/Conoco workers drilling on Alaska's North Slope, and boarded a plane.
Bethel is a small, flat town on a river in the Yukon Delta National Wildlife Refuge where everything is shockingly expensive. It's only accessible by plane or barge, so bringing goods in is very pricey. I had to wait a few hours to catch my next flight to Newtok, but the only food available at the airport was a food truck selling $17 dishes of rice and meat. (On my return trip, I went to a grocery store in Bethel and saw a $19 quarter-watermelon, a dozen eggs for $7.49, a gallon of milk for $7.99 and a six-pack of O'Doul's for $15.69.) I was one of the only white people in the airport, the rest of the waiting room was full of Alaska Natives waiting to get back to their villages.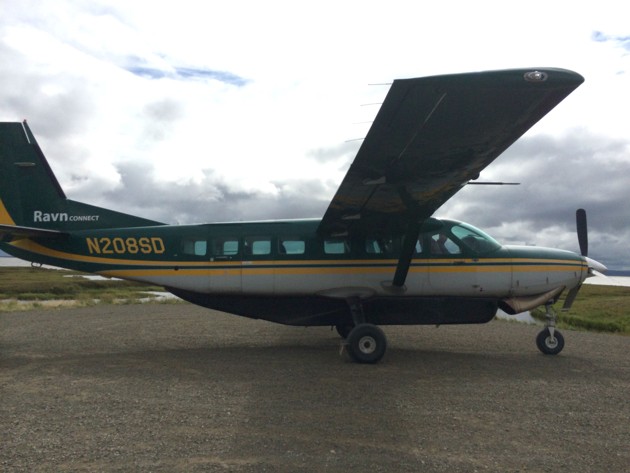 The small propeller plane fit only a few other people, and the rest of the plane was taken up by supplies dropped off at the other coastal villages the plane stopped at along the way: Nightmute, Toksook Bay and Tununak. At each stop, the pilot would drop off a passenger or two, along with the mail and pallets of food, which townspeople picked up on ATVs. Before I had boarded the plane, the airline asked me my exact weight and the weight of my bags, perhaps to ensure the plane would not be carried away into the wind after we dropped off people and cases of soda and bread.
Flying above the Yukon Delta, it's difficult to tell where the land stops and the water begins. There are no trees, and few visible animals, just miles of ponds and rivers and green and brown patches of land. The weather seemed to be perpetually on the verge of rain, and the air ride was bumpy, conditions that are only worse now that it's becoming fall. I had a plastic bag at hand, just in case.
Some of the runways were gravel, rather than paved, because it's so difficult to get construction equipment to the villages. The guy sitting next to me on the plane told me some of the runways were too short, and planes would sometimes have trouble landing, which was not exactly a comforting thought.
When we landed in Newtok, I climbed out of the plane, shouldered my backpack, and walked the rickety boardwalk to the village school, where I was spending the night. I offered up a bag of fruit, something a state official had recommended I bring since fruit is so difficult to find in the villages. The school principal showed me to a spot in the school library where other visitors had slept before, made comfortable by blue gym mats. I dined on the saltines and peanut butter that I brought in my backpack, though hospitable villagers also shared moose soup and dried seal. Then I set out to meet the villagers.
President Obama is rumored to visit Kivalina, one of the villages that is in imminent danger from erosion. Like many other remote Alaskan villages, it doesn't have a sewer system or running water.
I'm sure President Obama's visit to the Arctic will be more comfortable, though perhaps not during his Bear Grylls appearance. The reality star has showed Kate Hudson, Zac Efron, Ben Stiller and Channing Tatum, among others, how to survive in the wilderness. He's made a few of them pee into a water bottle so he can show them how to drink their own urine. Here's guessing President Obama doesn't want to be the first sitting U.S. president to drink his own urine.
But even without Bear Grylls, Alaska, the Last Frontier, can be an exhausting place. The first president to visit Alaska, Warren G. Harding, was so wiped out from his visit that he holed up in a hotel in San Francisco, where he later died.
***
Update: This is Chris, the reader editor. An email just came from a reader who has a lengthy response for Alana:
I read the Atlantic story about Newtok, hoping for so much, only to be disappointed. Instead of probing the situation there, it followed the established story line.

I'm not complaining. I've spent a lifetime in journalism. As a reporter in Barrow during the great whale rescue, I was called back to Anchorage when I attempted to write about how the best whale scientists on the Pacific Coast were quietly calling the whole thing a fiasco.

I understand pack journalism, so i don't want this to sound like blatant criticism of the story or of the reporter. It's more a request, having read your stuff for years, that maybe you could do some mentoring, and maybe help guide the reporter toward a better story.

The Newtok story is not an environmental story. It is, like most similar stories in rural Alaska, an economics story. Newtok is a village with no economic reason to exist. It is easy to talk about it functioning in some sort of subsistence wonderland of the north where people live happily off the land, but there are very few moose in and around Newtok and even fewer muskox.

Newtok lives off goods flown in from elsewhere, which is why it needs an airstrip. Many of the people there, if not most, are dependent on outside support in some form or another. Forty-five percent of the population is under the age of 18. The median age is 19.2. The kids grow up with the internet and television; they are exposed to world very different than they're own; and they want to get out.

The ones with good parents make it. The ones with bad parents often don't. A lot of times they drift back and forth between Anchorage. A lot of times they give up on the future, go home, and collect welfare or live of relatives collecting welfare, or start bootlegging, which is one of the viable businesses in rural Alaska. Alcohol is to the region what drugs are to inner city America.

Sometimes they just give up and end it.

Rural Alaska isn't a subsistence wonderland. It's the rural version of the ghetto. The estimated cost of moving the village of Newtok is $130 million. That works out to about $370,000 per person. If the government went to Newtok and announced: "OK, we can spend $130 million to move your village or we can give $250,000 cash to every man, woman and child, and you can decide what you want to do about the future," the residents would grab the cash and figure out themselves what to do next. And the government would save more than $40 million.

As you well know, the president is here now talking all about climate change. Climate change is indeed an issue for Alaska's future. But it is not the immediate issue facing Alaska, most especially rural Alaska. The issue there is simple: jobs.

People in Newtok lack work, and people lacking work get into trouble. They always have. They always will. Newtok is better than a lot of villages. But it is plagued with problems. One in ever 22 of the adult men living there is a registered sex offender. Drunkenness, often from bad homebrew containing who-knows-what chemicals, is a daily problem. Domestic abuse and criminal histories go hand in hand with the alcohol.

The future has brought technological conveniences to Newtok in the form of motorboats, snowmobiles, all-terrain vehicles. All have made life better. They have also created a lot of idleness. Where once subsistence activities occupied all of the time of everyone out of necessity, people can now speed out of the village to kill something and sometimes be back the same day.

I say sometimes only because there today "dead zones" around villages where all the big game has been shot off. When that happened 100 years ago, people moved. Now, people stay in villages cemented in place by expensive government infrastructure—schools, water, sewage treatment—that well-meaning others helped provide.

And they stay unhappy. The teachers quoted in the story pretty well sum things up for one village, but it is not unlike other villages. I don't wholly agree with the views these teachers expose. I think there is some racism involved, maybe more than some, but they are right about the dysfunction.

Nothing would make me happier than for The Atlantic to send someone back to write about this reality rather than the story spun by the people with northern agendas who write press releases. It saddens me greatly that somehow PR has become the new real journalism.

If you got this far in the e-mail, please excuse the typos. I mainly just had to vent. Alaska used to be a place where a lot of good and edgy journalism got done. the edgy is now gone and the good is fading.